Unfazed by Market Crash, Romania Doubles Down on Tax Blitz
(Bloomberg) -- Uproar at Romania's surprise proposals to rescue the budget hasn't deterred the government.
An emergency decree on raising 10 billion lei ($2.5 billion) of additional revenue via ad hoc taxes will be passed Friday, according to Liviu Dragnea, head of the ruling Social Democrats.
The package, including a "greed" levy on the foreign-dominated banking industry, has been met with anger by President Klaus Iohannis, businesses and markets, which endured their worst day since the global financial crisis on Wednesday and have sunk further since.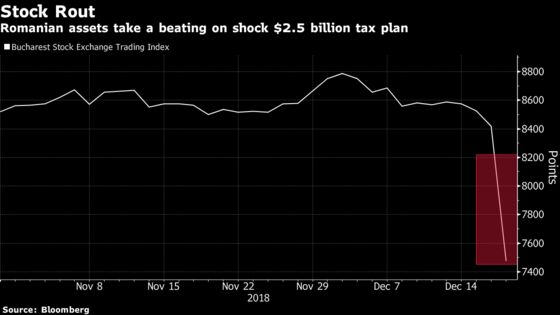 "Romania isn't at the beck and call of any company," Dragnea told a televised news conference Thursday. "I'm warning those who came out with all sorts of outbursts to stop blackmailing the Romanian state."
The government appears to be ignoring the fury around its tax initiates as it seeks to prevent the fiscal shortfall from ballooning beyond European Union limits. As well as the potential penalties that could trigger, it wouldn't look good as Romania prepares to host the bloc's rotating presidency in the first half of 2019.
The government's measures also include taxes on energy and telecommunications companies, and an overhaul of the retirement system that would switch cash from private to state management. Suggestions at similar moves in the past have enraged pension companies.
"We're practically sitting on a ticking bomb and we urge the government to defuse it urgently by withdrawing the draft," Johan Meyer, chief executive officer of the Bucharest-based branch of Franklin Templeton Investment Management Limited and a portfolio manager of Fondul Proprietatea, said Wednesday. "The proposed measures will have significant negative effects that will cascade over the entire Romanian economy."
The storm is one of many for the ruling Social Democrats, with Dragnea -- Romania's de facto leader -- frantically pushing for amnesties and pardons that would shield him from prison. The party's stint in power since 2016 has so far seen three prime ministers, warnings over the rule of law from the U.S. and EU, and a plunge in revenue after taxes were cut to lure voters.
The tax plan has worsened a long-standing rift with President Iohannis, who's repeatedly pushed back at the Social Democrats' efforts to decriminalize low-level corruption. He's been backed by tens of thousands of protesters who've been turning out for two years to oppose what, if passed, would undo years of progress in battling graft.
While the government's popularity has suffered, a no-confidence motion by the opposition failed on Thursday.
"The only way out of this, following the blood bath on the stock market, is for the government to urgently withdraw the proposal," Cristian Agalopol, a board member of the American Chamber of Commerce in Romania, said Wednesday. "The stock market lost $3 billion in capitalization on Wednesday and the biggest losers were the shareholders and the state, which did a great disservice to itself."