Brazil Industry Stumbles in 2019, Adding to Rate Cut Bets
Brazil's industrial output recorded its second straight monthly decline in December as capital goods fell the most in a year and a half, giving the central bank more fodder to cut its benchmark interest rate this week.
Production fell 0.7% from November, worse than the median estimate for a 0.5% decline from analysts in a Bloomberg survey. From a year ago, output shrank 1.2%, the national statistics institute reported on Tuesday. For all of 2019, industrial production declined 1.1%.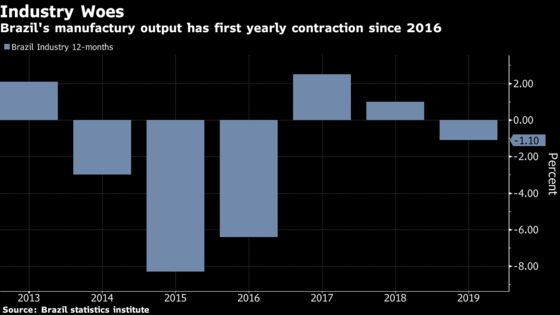 The result bodes poorly for prospects of a stronger recovery in Latin America's largest economy following a period marked by recession and sub-par growth. Local industry has been undercut by factors including weak demand from neighboring Argentina and faltering confidence. The figures will fuel bets policy makers will cut borrowing costs for a fifth straight time to an all-time low, said Luciano Rostagno, chief strategist at Banco Mizuho do Brasil.
"The data was horrible," Rostagno said. "The economy ended 2019 weaker than expected."
Swap rates priced in greater odds of fresh monetary policy easing following the release of industrial production data. Swap rates on the contract due in January 2021 fell 3.5 basis points to 4.29% in morning trading in Sao Paulo.
Of the 26 industrial sectors monitored by the statistics agency, 17 fell in December. Capital goods output, which is seen as a key indicator of investment, plunged 8.8% after recording a 1.3% tumble the month prior. Durable goods dropped 2.7%, while consumer goods fell 1.4%.
Brazil's industrial output is now 18% below the peak level registered in May 2011, according to a research note by Goldman Sachs chief Latin America economist, Alberto Ramos.
Analysts surveyed by the central bank expect Brazil's GDP to expand 2.3% this year, roughly double the pace seen in 2019. Economy ministry officials are even more optimistic, as they foresee an expansion of 2.4% which can be revised higher as job creation gains strength.
There are signs that consumption is growing faster than investment. Total outstanding loans in December rose the most in five years and, while missing economist forecasts badly in November, retail sales nevertheless have increased for seven straight months.
"Economic growth will still pick up this year due to low borrowing costs," Rostagno said. "The services sector will lead this year's growth. Industry is still suffering."