Azerbaijan Regains Region Lost for Decades as Armenia Pulls Back
(Bloomberg) -- Azerbaijan said its army regained control of land east of the breakaway region of Nagorno-Karabakh for the first time since 1993 after Armenians withdrew their forces as part of a Russia-brokered cease-fire agreement.
Troops entered the Agdam region on Friday, one of three areas around Nagorno-Karabakh that Armenia agreed to vacate under the Nov. 10 deal, the Defense Ministry in Baku said in a website statement. The Armenian military is scheduled to pull out of the Kalbacar and Lachin regions by Dec. 1 as part of the agreement last week that halted 44 days of war.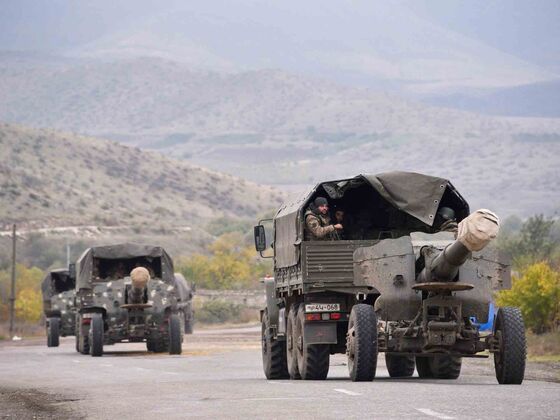 "It's a historic day," President Ilham Aliyev said in a TV address to nation. Agdam, which is now largely derelict but once had a population of 143,000, was the largest of the seven Azerbaijani districts around Nagorno-Karabakh that were taken by Armenians during a war in the early 1990s.
Armenian Prime Minister Nikol Pashinyan, who's facing calls to resign over the conduct of the war including from the country's president, replaced Defense Minister Davit Tonoyan in a government shuffle Friday, and named Vagharshak Harutyunyan as the new minister. Foreign Minister Zohrab Mnatsakanyan left the government on Monday.