Austria's Kurz Presents Tax Cuts to Counter Weeks of Scandal
(Bloomberg) -- Austrian Chancellor Sebastian Kurz presented tax cuts flagged as a signature project of his government coalition as he attempts to put weeks of scandals and outrage about his nationalist partner behind him.
The measures, elements of which have been presented piecemeal since January, total 6.5 billion euros ($7.3 billion) over three years, or 1.7 percent of economic output, the finance ministry said in a presentation in Vienna. Funded by budget surpluses and unspecified savings, the cuts will benefit very low earners and pensions from next year, all income taxes from 2021, and the headline corporate tax rate starting in 2022.
"We're keeping a central election promise and giving relief to working people, especially those with low and middle incomes," Kurz said in a statement.
The package, the full impact of which will kick in just before the next scheduled election, is an opportunity for Kurz to draw the focus away from his nationalist coalition partner, the Freedom Party of Vice Chancellor Heinz-Christian Strache. Links to extremists that emerged after the New Zealand mosque attacks, racist pamphlets and campaigns against journalists have drawn widespread criticism over the past month.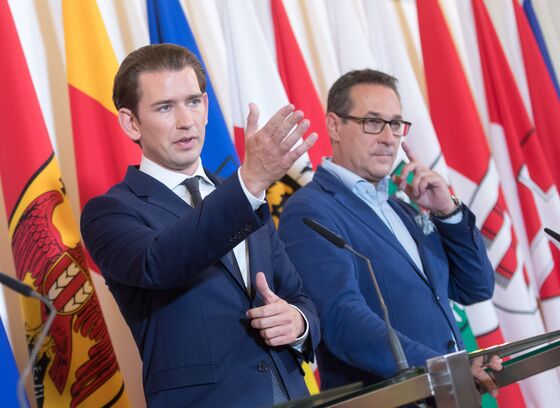 The tax cuts are larger than the two previous packages over the past decade, which were credited with helping Austria recover quickly from the financial crisis and boosting domestic demand. Unlike those measures, they aren't financed with debt but mostly distribute what would otherwise be budget surpluses. About 2 billion euros of the funding will come from still unspecified spending cuts.
The front-loading of the benefits for low earners and the relatively modest cut for corporate taxes, at a later stage, are designed to counter criticism that Kurz is beholden to industry donors. The plans don't include a reduction of the capital gains tax, yet introduce a new tax exemption for plans for companies to share profits with workers.
Main elements of the package:
Wages and pensions below the annual income-tax allowance, which don't benefit from tax cuts, will qualify for reductions in social security and health insurance contributions worth 900 million euros from next year.
The three main income tax brackets will be cut to 20 percent, 30 percent and 40 percent (from 25, 35 and 42 percent) respectively in 2021 and 2022, which will add up to 3.9 billion euros in reductions.
The corporate tax rate will be cut to 23 percent from 25 percent in 2022, and to 21 percent in 2023, a reduction equivalent to 1.6 billion euros. Previous plans to leave the headline rate unchanged and exempt retained profits to privilege investments over payouts are not included.