Showdown For Kurz's Austrian Coalition Could Doom Tax Reform Too
(Bloomberg) -- The likely ouster of Austrian Chancellor Sebastian Kurz also threatens to upend approval of next year's budget and its wide-ranging tax overhaul. 
Failure of the ambitious plan would be another casualty of fast-moving events that threaten to derail the political career of Kurz, a rising star of European conservative politics.
Kurz became Austria's youngest foreign minister at 27 and its youngest chancellor at 31. He turned 35 in August and remains the youngest head of government in Europe; Finland's Prime Minister Sanna Marin will be 36 next month.
Tuesday's vote of confidence in Kurz will come before a planned government approval of the budget and a presentation to parliament by Finance Minister Gernot Bluemel, scheduled for the following day. The ministry said Saturday it won't expedite the process.
As a result, the Green-driven policy measures, including the introduction of a tax on carbon emissions, may fall victim to the nation's political showdown. 
Austria's government is on the verge of collapse after Kurz was named this week as a suspect in a corruption probe. The chancellor has denied wrongdoing and vowed to stay on, despite pressure to resign from the opposition and the junior ruling party.
Kurz and members of his inner circle are under investigation for their alleged role in funneling federal funds to a newspaper publisher in exchange for favorable coverage that helped drive his meteoric rise, according to a 104-page legal document seen by Bloomberg.
The People's Party tie-up with the Greens is Kurz's second coalition government. In 2019 it was Kurz who pulled the plug on an alliance when the far-right Freedom Party was caught in corruption allegations.   
At the time, Kurz derided "the idea of abuse of power" as untenable.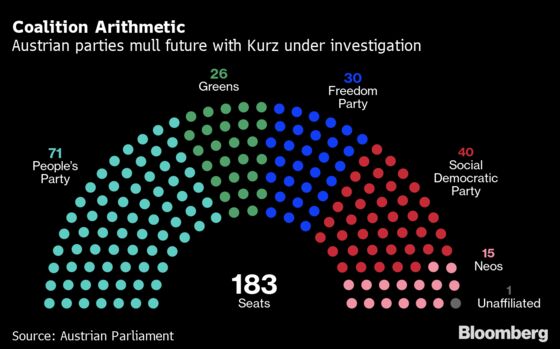 As the junior partner, the Greens have overlooked various political scandals within Kurz's group to focus on delivering their agenda, including pushing for the tax reforms.  
The plan includes a levy on household carbon emissions and a proposal to offer cheap train tickets across the country.
Vice Chancellor Werner Kogler, the Greens' leader, asked on Saturday for expedited approval of the budget. A spokesman for Bluemel rejected the request, referring to a timetable agreed on months earlier -- putting pressure back on the Greens. 
"Whether this schedule holds, depends on the Greens and whether they feel responsibility for government," the spokesman said in a statement. "It would be a pity if important projects like the 1, 2, 3- ticket or the tax reform were not included in the budget this time."  
With Kurz in peril, Austria's other political parties are in discussions about possible new coalitions, and have met with President Alexander Van der Bellen, who has the power to dismiss the government. Fresh elections can't be ruled out.  
In televised remarks on Friday, Van der Bellen called for calm. "We have a crisis of government, not a crisis of state," he said. "Our democracy is prepared for all possible situations."