Australian Treasurer Rips Mahathir for Remarks on Israel Embassy
(Bloomberg) -- One of Australia's top leaders blasted Mahathir Mohamad for criticizing a proposal to shift the country's Israel embassy to Jerusalem, citing the Malaysian leader's record of comments disparaging Jews.
Australian Treasurer Josh Frydenberg, who is Jewish, on Thursday dismissed Mahathir's warning that moving the embassy from Tel Aviv would heighten the risk of terrorism. He said Australia would make its own decisions based on national interest.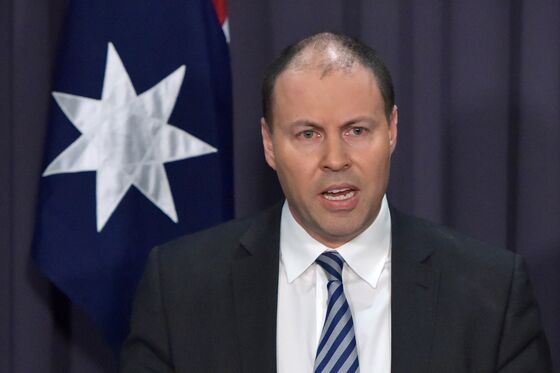 "The Malaysian Prime Minister Dr Mahathir has form," Frydenberg told reporters in Melbourne. "He has called Jews hook-nosed people. He has questioned the number of people that have been killed in the Holocaust. He banned Schindler's List as a movie being shown, even though it showed the amazing story of a righteous gentile who saved many people from persecution."
Calls to Mahathir's office in Kuala Lumpur weren't immediately answered.
Australia's proposal to follow the U.S. in moving its embassy to Jerusalem has sparked concern throughout the Muslim world. A planned free-trade agreement with Indonesia, the world's most populous Muslim nation, is now on hold until a final decision is made, the Australian Financial Review reported this week.
Australian Prime Minister Scott Morrison, who met Mahathir during regional meetings in Singapore this week, defended Frydenberg on Friday. The treasurer had been "filling in the history" on Mahathir's "record on various issues over time," Morrison said.
"Australia decides foreign policy," the prime minister said. "I am not going to have our policy dictated by those outside the country."
The spat indicates there may be a lack of foreign-policy discipline in the government under Morrison, who only became prime minister in August, according to Andrew Hughes, a political analyst at the Australian National University in Canberra.
"Australian ministers need to be wary of the ramifications of causing tensions with its near neighbors, some of which are concerned the nation is becoming too closely aligned to the U.S. on some of these geopolitical issues," Hughes said.
It isn't Australia's first clash with Mahathir. In 1993, after he refused to attend an APEC meeting hosted by the U.S., then-Australian Prime Minister Paul Keating labeled him a recalcitrant.
In a Fairfax interview in March, Mahathir said Australia "sticks out like a sore thumb in this area because it is an outpost of Europe."
The latest escalation could make for an interesting day in the Papua New Guinea capital of Port Moresby on Saturday, where Mahathir is due to address APEC leaders ahead of speeches by Morrison and China President Xi Jinping.
"Considering APEC is on right now, this might be a timely reminder for Australia that its future is in the region," Hughes said. "It needs to be building relationships, not wrecking them."