Australian Miner Makes a $1.55 Billion Bet on Chilean Politics
(Bloomberg) -- An Australian company spun off from mining giant BHP Group is making a sizable bet on Chilean politics. 
South32 Ltd. agreed to buy a 45% stake in the Sierra Gorda copper mine in Chile for $1.55 billion. The deal comes as lawmakers in Chile consider a new royalty that would create one of the heaviest tax burdens among major mining nations. Companies including BHP have said that the royalty, already passed by the nation's lower house and now before the Senate, would stifle future investments.
To be sure, South32 negotiated an indemnity from seller Sumitomo in relation to potential changes in the Chilean tax regime up to an agreed cap that wasn't disclosed. 
Still, the Perth-based company's foray into Chile can be seen as a wager that the royalty bill will be toned down in order to maintain the industry's competitiveness. That position was expressed last week by Antofagasta Plc Chief Executive Officer Ivan Arriagada, who told an industry forum that a more thorough discussion in senate committees has seen a more moderate view emerge.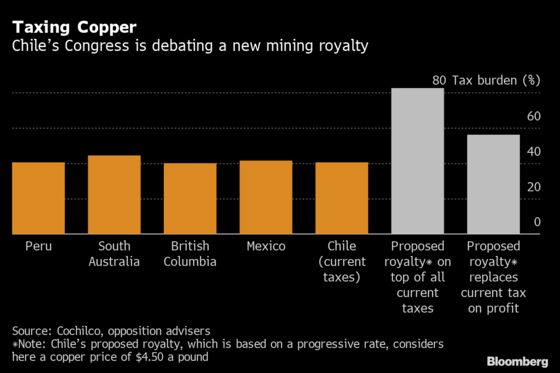 The tax reform isn't coming in a vacuum. Chilean politicians are seeking a greater share of the commodities windfall as voters turn away from mainstream parties after inequalities sparked a process to draft a new constitution ahead of presidential elections next month. All that may lead to tougher rules on water, mineral and community rights.
South32 sees the metal's auspicious prospects in a global switch to cleaner energy as outweighing Chilean political risk. Companies including Freeport-McMoRan Inc. and Lundin Mining Corp. have said they're holding off on investments in Chile until there's greater regulatory clarity. 
The Sierra Gorda venture, which KGHM Polska Miedz SA also has a stake in, has been seeing improved performance after years of losses from low prices and bumpy operations. Sumitomo had indicated it was looking to exit the joint venture last year.