Australia's Turnbull Dealt Blow as Opposition Sweeps Elections
(Bloomberg) -- Prime Minister Malcolm Turnbull was dealt a blow by Australian voters in by-elections held Saturday that boosted the main opposition Labor Party.
Labor was returned in four of the five electorates up for grabs even after polls showed that Turnbull's Liberal-National coalition had a chance to win two. A minor party retained the one seat it already held. The bulk of the by-elections were triggered because incumbent Labor candidates were deemed ineligible due to holding citizenship of other countries at the time of the last national poll in 2016.
While his coalition marginally trails Labor in national opinion polls, there was some expectation that a a strong showing would have emboldened Turnbull to call an election as early as this year, months before it must be held by next May. Instead, simmering doubts about Labor leader Bill Shorten remaining in his job are likely to be quelled by results that saw his party's support jump 10 percent in one electorate in Brisbane's northern fringes.
"It's really a case of whether this dents the morale of the coalition at the moment -- I doubt it will have a significant dent," said Haydon Manning, an associate professor of politics and public policy at Flinders University in Adelaide. "But you can forget the notion of an early election."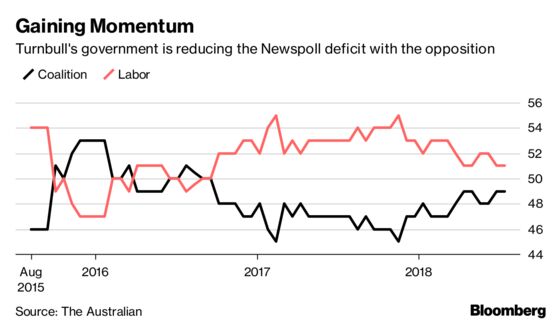 Bolstered by a strengthening economy and surging employment, Turnbull's government has improved its performance in opinion polls this year and has a reasonable chance to win re-election. The prime minister has shrugged off gaffes that threatened to derail his coalition, including an extramarital affair by his then-deputy Barnaby Joyce, allowing him to better focus voters' attention on his core message of providing economic and defense security.
Labor will take some confidence from its campaign promises to bolster health and education, while it's also railed against corporate-tax-cut legislation that the coalition is trying to pass.
"What a great night for the Labor Party," Shorten said after his party claimed victory in the four seats. "Tonight is another signpost into the destination that matters for Australians -- a Labor government after the next election."