Australia's Former Foreign Minister Julie Bishop Quits Parliament
(Bloomberg) -- Australia's first female foreign minister Julie Bishop announced she'll quit parliament at the next election, joining an exodus of senior lawmakers from the country's ruling coalition as it battles to retain office.
Bishop, 62, received a standing ovation in the House of Representatives in Canberra on Thursday after announcing she wouldn't re-contest the Western Australia parliamentary seat she's held since 1998.
Bishop had resigned as foreign minister and returned to the legislature's back benches in August, after former prime minister Malcolm Turnbull's ouster. Her departure ends a political career in which she also served as deputy to three leaders of the Liberal Party, including Turnbull and Tony Abbott.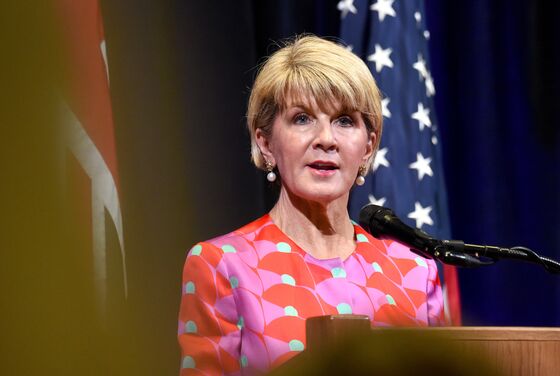 "I will leave this place positive about the future, proud of the service I have been able to give," Bishop told parliament. She said the government's policy positions had crystallized under current Prime Minister Scott Morrison, who in her view was on track to retain power.
Morrison's governing Liberal-National coalition trails the opposition Labor party in opinion polls, and is entering a critical period as May elections loom. In addition to Bishop, three other coalition ministers have announced they'll leave politics at the election, fueling perceptions that Morrison's government is failing to counter its talent pool drain and is on the verge of losing office.
Bishop, a former lawyer seen as a moderate within the Liberal party, said she'd been contacted by a number of "impressive" women lobbying to replace her as the party's candidate for her seat in the electoral district of Curtin. Only about one-fifth of the party's lawmakers are women -- compared with the almost half comprising its main rival, Labor.
"Julie Bishop is a giant of the Liberal Party and she has been a ground breaker for women in public life," Morrison told parliament after her announcement.
Though popular with Australia's public, she received only a fraction of the votes required when she contested for the vacant prime minister's chair last year, losing to Morrison.
After Bishop's resignation as foreign minister, Marise Payne became the nation's second woman to hold the job, tasked with navigating a diplomatic tightrope between appeasing Australia's main ally, the U.S., and its largest trading partner, China.