Australia Police Halt Probe Into Rape Claim Against Minister
(Bloomberg) -- Australian police have closed an investigation into allegations that a member of Prime Minister Scott Morrison's Cabinet raped a woman in the 1980s.
"There is insufficient admissible evidence to proceed" with the investigation, New South Wales state police said in an emailed statement Tuesday. Authorities have "determined the matter is now closed," it said. The woman died in June 2020.
Amid growing concerns about a toxic culture in Australia's parliament, Morrison told reporters on Monday that the Cabinet member -- who hasn't been publicly identified -- denied the claims, which emerged at the weekend after friends sent details of the allegations to the prime minister and other lawmakers.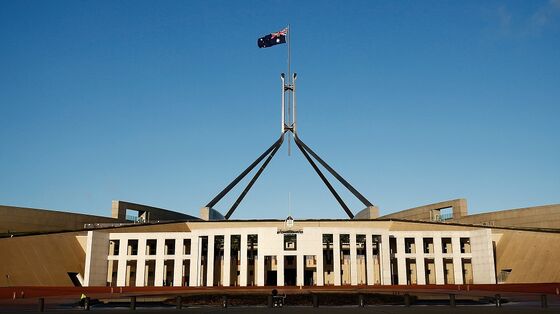 News Corp. reported that the Cabinet minister would use a press statement on Wednesday to identify himself.
Morrison said on Tuesday he hadn't read the documents sent to him but had been briefed on their contents, and wouldn't be launching an inquiry into the allegations.
New South Wales police on Tuesday said that in November 2019 the woman, then 48, sought advice from South Australia police about reporting historical sexual offenses, which allegedly occurred in 1988 in Sydney.
While the matter was referred to New South Wales police, which became the lead agency in the investigation in February 2020, "for various reasons, the woman did not detail her allegations in a formal statement to NSW Police," it said.
Before the claim about the Cabinet member emerged, Morrison was already under pressure over the workplace culture at Parliament House after a former government media adviser, Brittany Higgins, said last month that after a night of drinking with colleagues in 2019 she was raped by a fellow staffer in a minister's office.
The latest claims and the prime minister's handling of them will intensify focus on his judgment on women's issues, which was called into question after he said he realized the gravity of Higgins' allegations after discussing them with his wife, who asked him to consider the issue as a father of two girls.
Some female lawmakers have complained about a male-dominated and dis-empowering culture in the national capital, Canberra.
Government lawmaker and former Deputy Prime Minister Barnaby Joyce said in an interview to Australian Broadcasting Corp. on Tuesday that Morrison should allow independent inquiry processes to investigate claims of sexual assault or harassment against lawmakers.
"The parliament is not a court, and politicians are not policemen," Joyce said.