Australia Leader Slams Trade War, Says Door to TPP Still Open
(Bloomberg) -- Australian Prime Minister Scott Morrison strongly criticized a burgeoning trade war between the U.S. and China, while saying other countries are welcome to join a revamped Pacific trade deal.
Speaking at an Asia-Pacific economic summit in Papua New Guinea, Morrison said it was important for governments to make the case that free trade is the best way to lift people out of poverty and provide stability in the region. He also backed the World Trade Organization, saying it was important to strengthen global trading rules.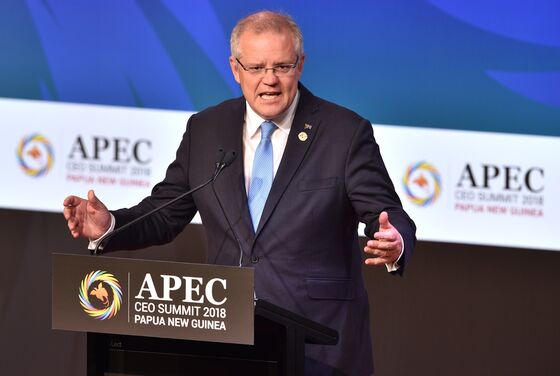 "Tit-for-tat protectionism and threats of trade wars are in no one's interests economically, and undermine the authority of the global and regional trading rules that benefit us all," Morrison told the Asia-Pacific Economic Cooperation CEO Summit on Saturday. "I know there are legitimate questions around trade arrangements. But the solution to perceived unfair trade practices is more likely to be found around the negotiating table than it is in re-building a tariff wall."
The comments appeared to be some of Morrison's strongest veiled criticism yet of U.S. President Donald Trump's trade policies since taking office a few months ago. While Australia is one of the U.S.'s most reliable security allies in the Asia-Pacific, its reliance on trade for economic growth has put it odds with Trump's use of tariffs against friends and foes alike.
After Trump pulled out of the Trans-Pacific Partnership, Australia helped pass the deal with 10 other members -- including Japan, a fellow U.S. ally. Morrison said the TPP set the standard for trade deals and others were welcome to join.
Morrison also took a veiled shot at China's infrastructure lending around the world, which has saddled smaller countries like Sri Lanka with debt. Without mentioning China by name, the Australian leader said infrastructure projects must benefit the country receiving the investment.