Australia Accelerates Missile Program With Its U.S. Ally
(Bloomberg) -- Australia is liaising with its U.S. ally to accelerate a A$1 billion ($761 million) program designed to create a sovereign guided-missile program, a move that could add to its friction with China.
"We will work closely with the United States on this important initiative to ensure that we understand how our enterprise can best support both Australia's needs and the growing needs of our most important military partner," Defence Minister Peter Dutton said in a statement Wednesday.
The announcement comes after Australia and the U.S. -- which have both had increasing tensions with China -- in November signed an agreement to develop and test hypersonic cruise missile prototypes, with long-range strike capabilities. The deal is under the nations' 15-year Southern Cross Integrated Flight Research Experiment (SCIFiRE) program, which studies hypersonic scramjets, rocket motors, sensors, and advanced manufacturing materials.
China has warned any country accepting the deployment of intermediate-range American missiles would face retaliation. In recent years regional tensions have ratcheted up as China's Xi Jinping and Russia's Vladimir Putin have poured money into some of the world's most advanced missiles systems, while North Korean leader Kim Jong Un has been modernizing his arsenal designed to attack the U.S. and its allies.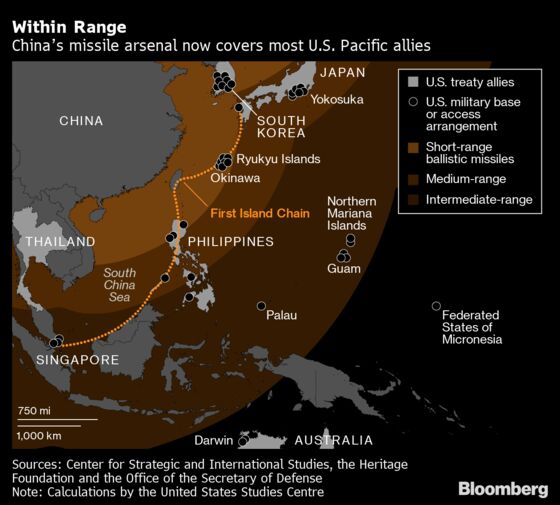 In October 2019, Xi paraded through Beijing a variety of weapons intended to offset American advantages in any conflict, including the DF-17 missile with a hypersonic glide vehicle, which is designed to make warheads almost impossible to intercept.
"The Americans are looking to invest very large amounts of money in advanced missile technology, especially as they realize they are playing catch-up to a large extent" with China and Russia, said Paul Dibb, an emeritus professor in strategic and defense studies at the Australian National University in Canberra. "The Chinese have got nearly 2,000 theater ballistic missiles, some of them with ranges of up to 3,000 kilometers (1,865 miles) and capable of carrying a nuclear warhead."

Japan's Defense Ministry took steps toward a greater strike capability in 2017, when it allocated 2.2 billion yen ($20 million) for an air-to-surface Joint Strike Missile. The fiscal year 2020 budget allocated 13.6 billion yen more for the cruise missiles, which can be mounted on F-35s.
The U.S. intended to discuss deploying medium-range missiles with its Asian allies to counter the immediate threat of China's nuclear buildup, the Nikkei Asian Review reported in August. It cited Marshall Billingslea, U.S. special presidential envoy for arms control, as saying that a medium-range, non-nuclear, ground-launched cruise missile under development in the U.S. had the defensive capability that countries such as Japan will need.
Earlier this month, the head of the U.S. Indo-Pacific Command, Admiral Phil Davidson, said China's military executed a coordinated test launch into the South China Sea of its top anti-ship ballistic missile, which is capable of attacking aircraft carriers in the western Pacific, in an "unmistakable message."
Dutton's department is selecting a strategic industry partner to operate the missile program's manufacturing capability, which could lead to export opportunities, he said. Wednesday's statement, which didn't directly link the sovereign guided-missile program with November's hypersonic cruise missile program announcement, cited estimates by the Australian Strategic Policy Institute think tank that Australia would spend A$100 billion in the next 20 years on missile and guided-weapons purchases.