Myanmar Imposes Martial Law After Chinese Factories Set Ablaze
(Bloomberg) -- Myanmar's junta on Monday extended "full martial law" to additional areas in Yangon following a weekend of nationwide protests that left at least 50 people dead in the wake of a brutal crackdown by security forces.
Coup leaders first imposed the measure in two townships late Sunday after the Chinese Embassy asked authorities to guarantee the safety of Chinese investments and citizens they said were attacked earlier in the day, leaving an undisclosed number of injuries. The orders were later expanded to four more townships in Yangon.
State broadcaster MRTV announced that more than 2,000 protesters blocked roads over the weekend to prevent firefighters from putting out fires at several factories in industrial zones, which included Chinese businesses. The Global Times, a tabloid run by the Communist Party, reported that 32 China-funded factories had been vandalized in attacks Sunday with the property damage reaching $36.89 million. It said earlier that two China-funded garment factories were destroyed in arson attacks.
The martial law order includes the location where the factories are located and other townships where violent protests were occurring. It gives the head of the military's local command power "to ensure safety, the rule of law and peace more effectively," by trying offenders in a military court where they could face much more severe penalties, including death.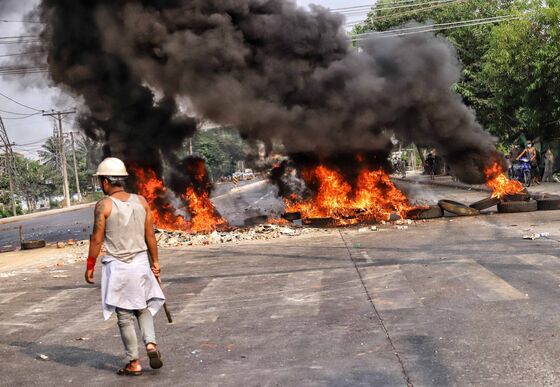 The burning and looting of Chinese companies is abhorrent, Chinese Foreign Ministry spokesman Zhao Lijian said Monday at a regular press briefing. "We hope the Myanmar side will take concrete measures to protect the safety of Chinese citizens in Myanmar."
The measures come amid signs that the violence could escalate further. The Committee Representing Pyidaungsu Hluttaw (CRPH), a parallel government set up by ousted members of the parliament elected in November's national poll, on Sunday announced that protesters have the right to defend themselves if attacked by a military they now call a "terrorist group."
On Monday, a court in the capital Naypyidaw postponed a virtual hearing for detained civilian leader Aung San Suu Kyi due to internet problems, said her lawyer, Khin Maung Zaw. Suu Kyi faces four criminal charges, including incitement and illegally importing walkie-talkies, offenses that could keep her in jail for several years.
At least 38 people were killed on Sunday alone in the deadliest day yet since the military seized control of the government on Feb. 1, according to rights group Assistance Association for Political Prisoners.
"In effect, the people have experienced a brutal martial law since the coup," said Matthew Smith, chief executive of Fortify Rights, a human rights group. "The formal imposition of martial law is immaterial in some ways, except for the fact that the junta regards it as stepped-up security presence. For that reason, it's a grave development."
The Special Advisory Council for Myanmar, a group of international experts consisting of former UN officials, has meanwhile warned that "a major military crackdown may be imminent, with fatal consequences" and called for "immediate international political intervention."
"So far, the international response to the attempted coup has been weak," the council said. "It is sending a dangerous message that the generals will continue to suffer no meaningful repercussions for their violent attacks on the Myanmar people."
While the UN Security Council has condemned the violence, countries including China and Russia have opposed stronger language and sanctions against the Myanmar military leaders. China has said it maintains good relations with all parties in Myanmar and called for dialog to prevent the situation from deteriorating.
At the same time, South Korea on Friday became the first Asian country to take meaningful action against Myanmar, suspending new defense exchanges and cooperation, cutting the export of military supplies and putting development assistance under review.
The junta's lead spokesman, Zaw Min Tun, reiterated Thursday that minimal force was used to disperse protesters, even as witnesses say live bullets continued to be utilized. He said security forces will continue to enter some properties to search for protest instigators in some townships, which he added was "to ensure safety and the rule of law."
In Mandalay on Saturday, demonstrators took to the streets after deadly violence earlier in the day. Tens of thousands of engineers and engineering students chanted for an end to military dictatorship and the release of detained leaders including Aung San Suu Kyi, the deposed elected leader.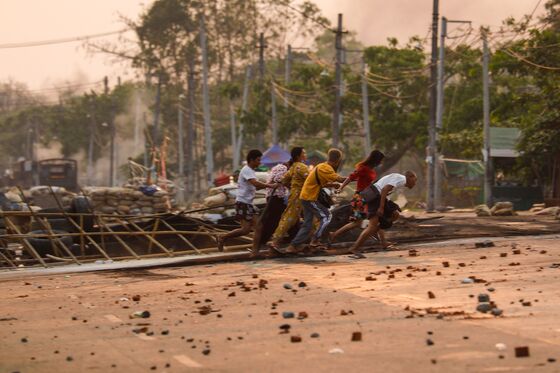 "Security forces are trying to scare us from joining street protests in the coming days," said Aung Myo Nyunt, a 20-year-old student protester in Mandalay. "Their efforts will be in vain."
Soldiers and riot police have forced striking public servants and employees in certain sectors to return to work as the civil disobedience movement threatens a collapse in services including banking, health care, education and transportation. The junta asked all banks to reopen on Monday, and said actions would be taken if lenders fail to obey.