Over Dinner, New Zealand's Leader Presses Pence on Free Trade
(Bloomberg) -- New Zealand Prime Minister Jacinda Ardern, who sat next to U.S. Vice President Mike Pence at a gala dinner in Singapore last night, said she used the opportunity to push the case for free trade.
"I use every opportunity I can to promote the benefits," Ardern said in an interview with Bloomberg Television in Singapore Thursday, where she is attending summits hosted by the Association of Southeast Asian Nations. "For us, maintaining that rules-based order is incredibly important."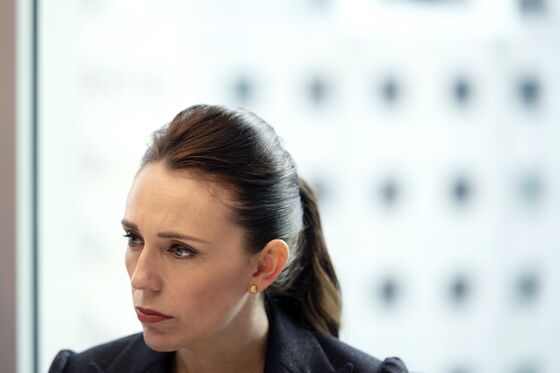 New Zealand is a member of the revamped Pacific trade pact that President Donald Trump pulled the U.S. out of, and one of 16 nations negotiating the China-backed Regional Comprehensive Economic Partnership. Those multilateral agreements are designed to reduce tariffs even as the U.S. and China engage in an escalating trade war, which Ardern said was hurting business confidence in her country and raising concerns about global growth.
"We see no benefit from tit-for-tat trade wars," she said, adding that it was important to make the case for free trade amid a push-back "in some corners of the world" from people who weren't seeing the benefits of globalization.
"We're trying to rebuild that mandate through a trade-for-all agenda," Ardern said. "How do we ensure that more and more people benefit from trade."
In other comments, Ardern said:
Attendees at the Asean summits would be "making the most" of their contact with Pence, even though Trump had decided not to attend
She got no sense from her conversation with Pence that the U.S. wanted to reconsider joining a Pacific trade pact, now known as the CPTPP
The U.S. seems more interested in pursuing bilateral rather than multilateral trade agreements
New Zealand won't "sacrifice quality simply for pace" in negotiations for RCEP, which she described as a "significant agreement"
She raised the issue of U.S. tariffs on imported New Zealand steel and aluminum with Pence