Astra Vaccine Haunts Countries That Shunned More Expensive Shots
(Bloomberg) -- Five countries that turned away more expensive Pfizer Inc. covid doses in favor of a cheaper version from AstraZeneca Plc are paying the price.
Bulgaria, Croatia, Estonia, Latvia and Slovakia, which declined part of their Pfizer allotments to wait for Astra doses, are among the slowest in the bloc to administer vaccines, according to a European Union document seen by Bloomberg. While Pfizer has met its commitments, Astra has delivered just 30 million of its originally committed 120 million doses in the first quarter.
As a result, Bulgaria and Croatia are expected to vaccinate 45% of their populations by the middle of the year, according to the document, the lowest in the EU after the Czech Republic. Estonia will vaccinate 50%, Latvia 53% and Slovakia 46%. That compares to 61% in Germany, 80% in Denmark and 93% in Malta.
The European Commission, the EU's executive body, said on Wednesday that more than 100 million doses were delivered to its member states in the first quarter, matching its lowered target. The EU expects the pace to pick up in the second quarter when it's forecast to receive 360 million doses.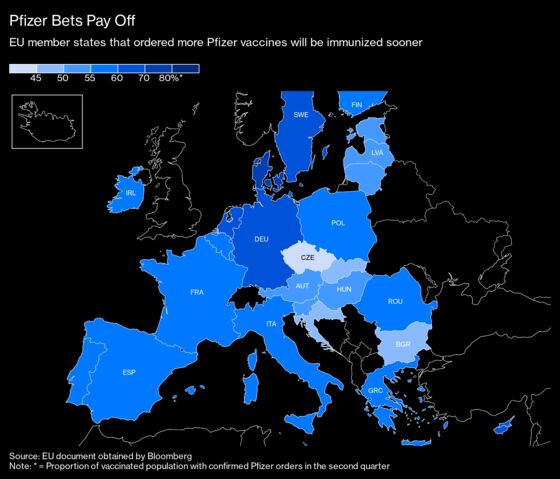 So far, the EU has administered 15.5 doses per 100 people, less than a third of what the U.K. has managed. The U.S. has given 45 shots per 100 people.
The EU is discussing a mechanism to divert a batch of 10 million Pfizer doses that will be delivered earlier than expected to some of those countries in need. The latest proposal would see five of those countries -- Bulgaria, Croatia, Estonia, Latvia and Slovakia -- share 3 million of the extra shots, according to two people familiar with the talks.
Austria, which argued the loudest for the redistribution mechanism, wouldn't get any extra doses under the plan, said the people, who asked not to be identified because the talks are private. One of the people said Austria's case was different because its orders didn't relate entirely to Astra and the country wasn't lagging as badly behind.
The remaining 7 million doses would be distributed pro-rata among all 27 member states, while the Czech Republic would get a top up in order for it to able to inoculate 45% of its population by the end of June.
Despite this month's uptick in deliveries, European governments have failed to hit a target set by the European Commission to vaccinate 80% of health care workers and people aged 80 and above.
According to data gathered by the European Center for Disease Prevention and Control, the median uptake within that age group among the 24 EU and European Economic Area members that have reported data is as of this week just below 60%. As with overall inoculation levels across the bloc, the ECDC figures reveal substantial differences between countries, with several falling well short of the target.