Asia's Longest-Serving Leader Seen Grooming Sons for Succession
(Bloomberg) -- Prime Minister Hun Sen now has more power than at any point in his 33 years running Cambodia. The only question is when he might give it up.
His ruling Cambodian People's Party declared victory on Sunday, even though election officials have yet to announce how many seats they won in the 125-member parliament. The outcome was never in doubt after Hun Sen disbanded the main opposition Cambodian National Rescue Party (CNRP) and shut down independent media outlets.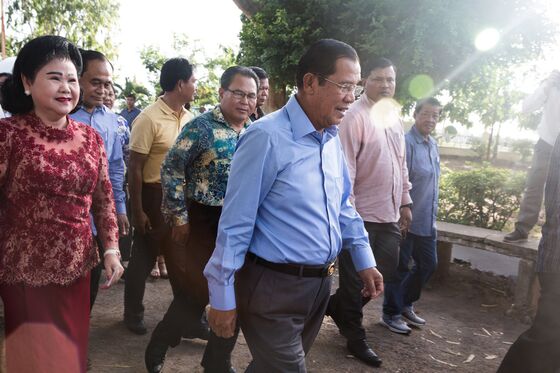 The 65-year-old autocratic premier is the longest-serving leader in Asia, and last September he vowed to stay on for another 10 years. But analysts say he's already thinking about a power transition, with two of his three sons emerging as most likely to succeed him.
Whether he can pull off a peaceful transition of power is another unknown. Robert Mugabe's move to have his wife take over in Zimbabwe led to an abrupt end to his 37-year rule, and his successor vowed a free election that was held on Monday.
"In authoritarian regimes, political succession is the Achilles heel," said Lee Morgenbesser, Cambodia expert and lecturer at the School of Government and International Relations at Griffith University. "It can all come undone."
Observers see two likely successors: his eldest son Hun Manet, 40, and his youngest son Hun Many, 35.
Hun Manet was the first Cambodian graduate of the United States Military Academy at West Point, has a master's degree in economics from New York University and a doctorate degree from the University of Bristol. A lieutenant-general, he was promoted in June to two senior military posts.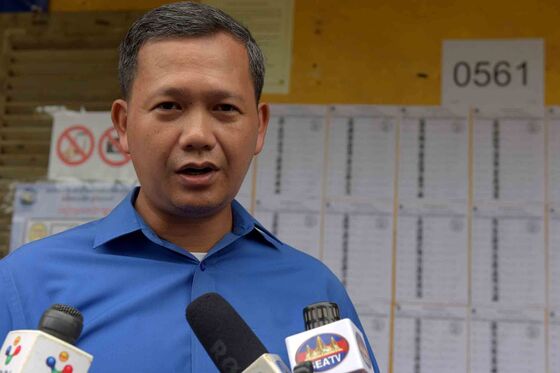 In an interview with the Australian Broadcasting Commission in 2015, Hun Manet said Cambodia needed to preserve peace and stability "at any cost" and noted the importance of economic growth.
"Building a strong foundation for economic growth, spreading the product of economic growth for every member of society, it's the foundation for supporting the maintenance of peace and social harmony," Hun Manet said.
He declined to answer if he wanted to be prime minister one day: "Not no, not yes."
Hun Many, on the other hand, has put up his hand for the job. The lawmaker who runs the ruling party's youth wing told a Cambodian radio station in 2016 that his goal was to become prime minister -- adding that it should be the aspiration of all young people.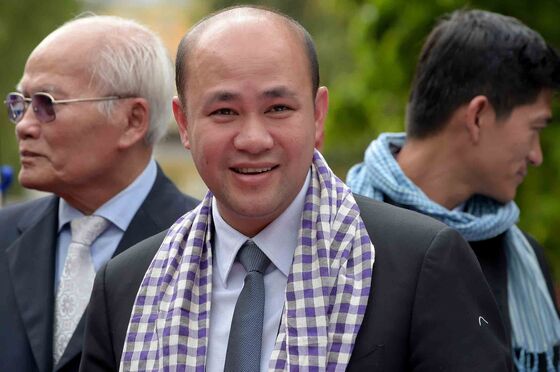 On Monday, Hun Many took to Facebook to defend his father against widespread criticism that the election wasn't free or fair. The disbanded CNRP said the boycotted vote "marked the death of democracy in Cambodia" and warned businesses and governments that a future democratic government wouldn't respect any agreements.
Expressing "dismay and shock," Hun Many said that turnout of 82 percent showed "without a doubt" that the country wanted to move forward.
Hun Many was the star of a rally in Phnom Penh on the eve of the election, according to Duncan McCargo, visiting professor of political science at Columbia University, who is in Cambodia for the elections.
"He had the air of a consummate politician, rousing up the crowd extremely well, in a very animated performance with no notes," McCargo said by email.
"But of course most bets seem to be on Hun Manet as the successor -- the more obvious choice," he said. "In interviews he seems rather stiffer than Hun Many. I suspect Hun Sen is not giving anything away, letting the sons compete for his own and for the country's attention."
Hun Sen's future is important in particular for China, which has seen his government back Beijing's stance over disputed territory in the South China Sea in return for financial support. China has invested $12.6 billion in Cambodia since 1994 -- the most of any country -- and is also its biggest trade partner.
Continuity may help Cambodia extend a period of political stability after the country emerged from the genocide of the Khmer Rouge, a regime that wiped out the educated elite and banned money, markets and private property. Since Hun Sen first took power, Cambodia's economy has expanded by more than 100 times.
But Sunday's election showed that its post-war democratic development has gone backward. Besides banning the opposition party, Hun Sen's government has also expelled the National Democratic Institute and banned independent media including Radio Free Asia.
"It is a one-party state on steroids," said Phil Robertson, deputy Asia director at Human Rights Watch. "It has complete control of the military and police. It has control of the court which are not at all independent, and it now has complete control of the media."
Given Hun Sen's control over nominally independent institutions, analysts say he's likely to use established legal means to continue elevating his sons through the ranks.
"He will do it constitutionally," said Hang Vitou, a political analyst and the director of the Young Analysts Group, a consortium of budding political commentators. "He has five more years and in the next election he will try and find away for his son to take power."
Still, establishing his family dynasty may be a dangerous move, Sebastian Strangio, the author of "Hun Sen's Cambodia," said in an email.
"Any transition of power will be fraught with risks, and will require the unanimous support of the powerful people surrounding Hun Sen and his family -- something that cannot be taken for granted."