As Turkey Asks for U.S. Help, Trump Befriends Its Old Enemy
(Bloomberg) -- Buzzing through the sky in the shadow of Mount Olympus, Greek and American attack helicopters completed a live-fire exercise last week as the two NATO allies strengthened their military cooperation. 
But the timing of the joint maneuvers was more testament to the geopolitics of an increasingly volatile region—and a message to rival powers—than a mark of any great friendship.
Greece has emerged as key to American plans to counter the influence of China and Russia in the Eastern Mediterranean as countries jostle for energy resources and infrastructure.
For the Greeks, the U.S. is the only country that can contain the expansionism of Turkey, which last week sought Washington's military help as it gets mired in the war in Syria where it's fighting Russian-backed forces. Turkey, which is also NATO member, requested a meeting with its allies in Brussels on Friday after an airstrike in Syria killed at least 33 Turkish soldiers.
The U.S. ambassador to Greece, Geoffrey Pyatt, said during the exercises on Feb. 19 that the relationship was "stronger than it has ever been" and defense cooperation was an "essential component of that." A mutual accord was ratified this year in Athens weeks after Prime Minister Kyriakos Mitsotakis held talks in Washington with President Donald Trump.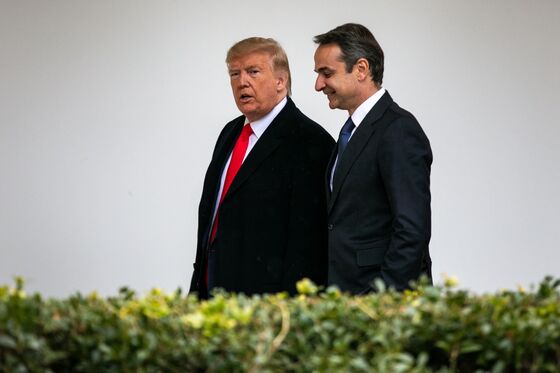 A beefed up partnership with Greece is aligned with Trump's National Defense Strategy, a policy shift that aims to prevent Russia and China from expanding in countries where the U.S. has had long-term military and economic ties. Greece is also a relatively pro-American nation in Europe, where many leaders are pushing back against demands to pay more for U.S. military support.
The U.S. and British intervened in Greece after World War II to stop the country from falling behind the Iron Curtain. By 1952, it was a member of NATO, joining alongside neighbor and traditional foe Turkey.
Greece spent the last 10 years battling an economic crisis. During that time it sold its largest port, the facilities at Piraeus adjacent to Athens, to China's state-run operator as it sought to raise money. Such investments are of particular interest to the U.S., according to McCarthy.  
The Mutual Defense Cooperation Agreement, which Secretary of State Michael Pompeo said was "truly a pivotal point" when he signed it in Athens in October, increases military cooperation by expanding infrastructure and making other improvements at the Souda base in Crete. It also allows the U.S. to use the Alexandropouli port in the north.
For the Trump administration, Greece also is one of Europe's big spenders on defense traditionally, given its location. The country already allocates more than 2% of its gross domestic product, a demand from the administration that has irked other members, like Germany. Mitsotakis also is upgrading Greece's U.S.-made F-16 fighters.
What worries Greece is that Turkey is growing more assertive in the eastern Mediterranean. While Turkey and Russia have been on opposing sides in Libya and Syria, President Recep Tayyip Erdogan has formed a closer relationship with Vladimir Putin as they carve up the region.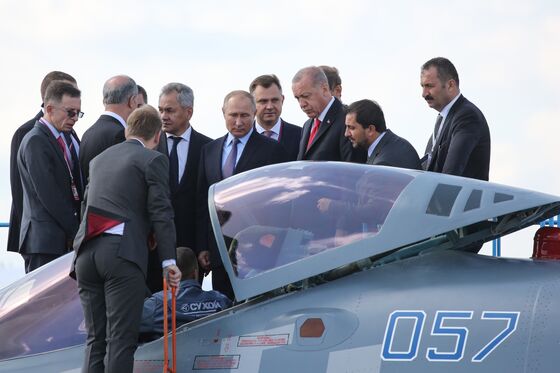 Tension between Greece and Turkey is at the highest since the 1990s because of a dispute over maritime borders included in a recent Turkish deal with war-torn Libya and Turkish plans to explore for gas in sea areas claimed by Greece. Athens is also looking to help reduce the region's dependency on Russian gas and is working on a pipeline project linking the Aegean with Bulgaria to the north.
Cagatay Erciyes, a senior Turkish foreign ministry official, questioned last week Greek maritime claims around its islands in the Aegean and the Mediterranean. He asserted that Turkey would maintain energy exploration offshore the south of Cyprus until Turkish Cypriot rights were guaranteed.
International pressure won't "bend Turkey's arms," Erciyes said. "The U.S., our American friends, can support dialogue between Turkey and Greece."
Indeed, the mood music around Mitsotakis and Trump is in stark contrast with Erdogan, who has often had an acrimonious relationship with his American counterpart.
The U.S. responded to Turkey's decision to buy the S-400 missile system from Russia by suspending it from the F-35 program. Secretary of Defense Mark Esper questioned in December Ankara's commitment to the NATO alliance after Erdogan threatened to close two critical installations if it's sanctioned for growing military ties to Russia.
Washington questioned the decision by Erdogan to send in troops to bolster the United Nations-backed government in Libya, a move that has upset the balance of power in the region. 
"The U.S. has always had a balance of power approach, especially when an ally like Turkey is trying to assert itself unilaterally," said Kamran Bokhari, director of analytical development at the Center for Global Policy in Washington. "Turkey has a lot more to offer to the U.S. than Greece, but stronger ties with the Greeks are useful as Washington doesn't want Turkey to get too comfortable in the Eastern Mediterranean region."