As Nicaragua Economy Slumps Most Since 1980s, Ortega Seeks Talks
(Bloomberg) -- With Nicaragua's economy in its deepest slump in three decades, and the government's ally Venezuela crumbling, President Daniel Ortega is returning to the negotiating table.
Ortega, now in his fourth five-year term, will meet with an alliance of business owners, civil society groups and the student movement Wednesday, the first time the two sides have met since talks broke down last May. The aim is reestablish stability and security, Ortega said.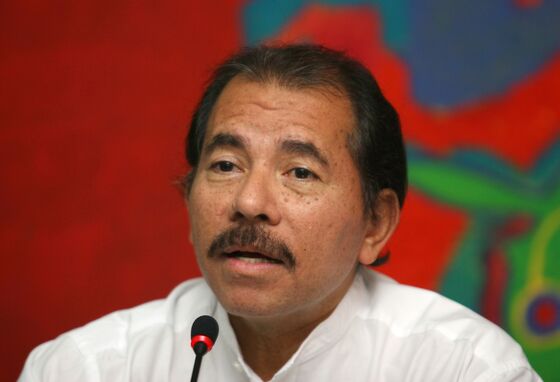 Nicaragua's economy contracted 4 percent last year, the most since the civil war in the 1980s, after months of violent clashes between protesters and security forces. The protests were initially sparked by the government's attempt to raise social security contributions and cut benefits, but quickly morphed into a more general protest against Ortega.
More than 300 people were killed and nearly 700 jailed, according to human rights groups, and 80,000 Nicaraguans have fled to neighboring Costa Rica.
Aid from Ortega's ally Venezuela has almost dried up, as that country endures a crisis far deeper than Nicaragua's. at the same time, multilateral institutions have pulled back on lending to the country.
The so-called Civic Alliance which will meet with Ortega on Wednesday, is sending a 12-member negotiating team of scholars, businessmen and economists, including Mario Arana, a former finance minister and central bank chief .
The group condemned recent convictions of anti-government demonstrators, including a 216-year jail sentence for protest leader Medardo Mairena, under a terrorism law approved last year. Independent journalists have been imprisoned, while congress stripped the legal status of civil society groups that criticized the government.
U.S. President Donald Trump said during a speech this month that "the days of socialism and communism are numbered," in Venezuela, Cuba and Nicaragua.
Ortega, 73, rose to prominence in the 1970s as a guerrilla for the leftist Sandinista National Liberation Front that overthrew the dictator Anastasio Somoza. He remains a fierce critic of the U.S., which he says is helping financing a coup attempt against his government.