As May's Enemies Unite, Here's How the Brexit Endgame Could Play Out
Prime Minister Theresa May has united opposing wings of her Conservative Party in opposition to her Brexit plan. As she closes in on a deal in Brussels, the chances of getting Parliament to approve it are looking slimmer than ever.
Here's at look at four ways the endgame could play out.
The government hopes that when a deal is done, Conservative lawmakers will fall into line. Brexiteers will see their chance at last to fulfill their long-held ambition to leave the EU -- and whips will tell them they risk losing that chance forever if a deal is voted down. Pro-EU Tories will see that the deal protects key industries, and will be told they risk a catastrophic no-deal Brexit if they vote against it.
May's de facto deputy David Lidington summed up this approach last week, saying the existence of a deal "will create a new dynamic."
"It will no longer be a question of some hypothetical outcome," he said. "I think then people will need to ask themselves what it is that's in the best interests of those who sent them to Westminster? I hope and believe that we can secure that majority in Parliament."
2. Back to the Ballot Box
Lidington's prediction is hard to stand up with numbers -- at least for now. The parliamentary arithmetic points to defeat for May, and the numbers keep getting worse. The resignation of Jo Johnson, the pro-EU brother of leading Brexiteer Boris, deprives the prime minister of at least one more vote -- and his arguments for opposing her deal and backing a second referendum instead could inspire others.
If May's deal is voted down, chaos ensues. Four paths emerge: lawmakers vote again, a general election, a second referendum, and crashing out without a deal into a legal limbo that will probably wreak economic havoc. This is where second-referendum campaigners see their opportunity.
For now, there's no evidence of a majority in Parliament for a second referendum. But there is a majority for avoiding a no-deal Brexit. And the bar for getting another plebiscite -- a simple majority -- is easier to reach than the two-thirds majority needed for a general election.
"Jo Johnson's decision is also a reminder that support for a referendum is deeper than it appears. Only nine Tories are among the more than 100 MPs who have publicly backed the idea. If the Commons rejects May's deal, many more Conservatives would come out for a people's vote," says Mujtaba Rahman of Eurasia, a political research company.
Labour leader Jeremy Corbyn dashed the hopes of many last week when he said Brexit "can't be stopped." But Rahman reckons there would be pressure on him from Labour activists and lawmakers to go for a second vote if the alternative is no deal.
Corbyn's party is determined to try to force an election to try to win power. May and her whips have even threatened rebel Tories with an early trip to the polls if they defeat her Brexit plans, and there have been reports her aides were war gaming that scenario.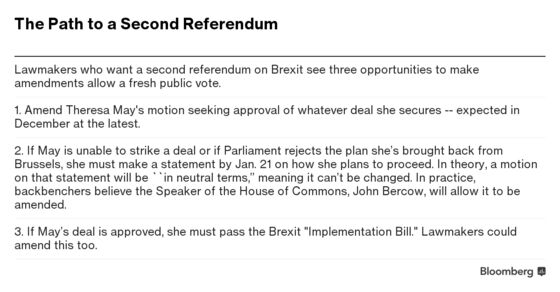 Parliament votes down the deal, and markets react dramatically. There's an outside chance traders will end up forcing a deal. Rupert Harrison, macro strategist at BlackRock and one-time adviser to former Chancellor of the Exchequer George Osborne, predicts Parliament will have another go, and fall in line the second time under the weight of a crashing pound.
Lawmakers vote the deal down. May says she's done her best, the Europeans overplayed their hand and the treaty on offer was the "bad deal" she always vowed was worse than "no deal." The government starts taking serious measures to prepare for the worst -- food shortages, delays to medical supplies, and bottlenecks at ports.
It's now up to Parliament -- where at most 80 MPs think a no-deal Brexit is a good thing -- to try to stop it from happening. The U.K. leaves the EU on March 29, 2019 with or without an agreement to ease the pain.