Italy Recruits to Fight the EU. Just Don't Mention Putin
(Bloomberg) -- Italy's nationalist-in-chief is on a recruiting drive for what he calls "the battle of battles." The first fight will be to unite the troops.
Deputy Prime Minister Matteo Salvini is seeking to forge a Euroskeptic pact ahead of elections to the European Parliament in May and headed to Warsaw on Wednesday for talks with Jaroslaw Kaczynski, leader of Poland's governing party. The two countries will be protagonists in a "new European spring," Salvini declared in the Polish capital.  
"A dialogue has begun and we proposed a common program to offer also to other European movements and parties on issues like growth, security, family and the Christian roots of Europe," he said.

But away from talk there are key differences that make any alliance look more superficial than the united front being championed by U.S. President Donald Trump's former adviser Steve Bannon.
Conflict is sure to emerge when true believers – or those who portray themselves as such – confront the compromises politics demands. There are contrasting views on immigrants, the European Union budget and relations with Vladimir Putin's Russia, something that Polish newspapers flagged prior to Salvini's arrival.
The head of the anti-EU League party and the real power behind the Italian government regularly praises the Russian leader. Kaczynski, the eminence grise in Poland, and his loyalists have built a conspiracy around the death of his twin brother, the country's president at the time. He was killed in an air crash in 2010 in Russia.
Salvini joked after meeting Kaczynski that they had agreed on "90 percent of issues and we keep the remaining 10 percent for fun." That 10 percent, though, may prove decisive.
"The problem with uniting populist parties is that they have national agendas which conflict with each other," said Guntram Wolff, director of the Brussels-based Bruegel think-tank. "Poland is very suspicious of Putin, and Kaczynski is almost paranoid about him."
Salvini is portraying the European elections as a showdown between the forces he represents and the liberal establishment led by Emmanuel Macron. The French president called nationalism a "betrayal" at November's World War I armistice commemorations in France, the same weekend that Poland's leadership was marching through Warsaw with far-right groups.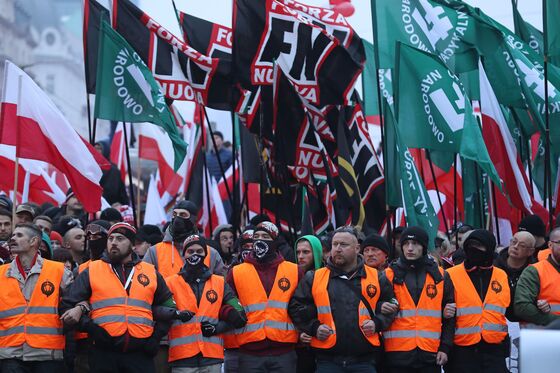 The European Parliament will have a key role in approving the new European Commission, the EU's executive, meaning that the contest has the potential to determine the future direction of the continent's integration project.
Macron's vision, backed by Germany, is for closer allegiance on such things as defense and national finances. Salvini, Kaczynski, Hungarian Prime Minister Viktor Orban and their allies want more, not less, sovereignty over their countries' affairs. Orban, the standard-bearer for Europe's populist forces, branded Macron the leader of a "pro-migration" camp.
"The new Europe will have a different voice on immigration," Salvini said in Warsaw after meeting with Polish Interior Minister Joachim Brudzinski. That Europe won't yield to the blackmail of people traffickers and NGOs, he said.
Salvini, 45, is seeking an alliance with Kaczynski, 69, with the aim of forming the biggest group in the parliament after May's voting, he said. A "10-point pact" could be proposed to "those who want to save Europe," Salvini said.  
Across the EU, League officials have been in similar talks with leaders of far-right groups including France's Marine Le Pen, Germany's Alice Weidel of the AfD party, Sweden Democrats chief Jimmie Akesson and Geert Wilders in the Netherlands, according to a League government member. The person declined to be named when discussing strategy. Orban and his Fidesz Party belong to the European People's Party, or EPP, and have clashed with some other members.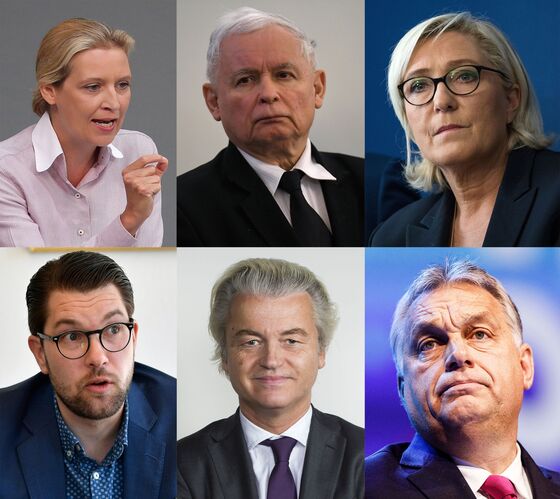 In his New Year message on Facebook, Salvini sounded gung-ho last week, proclaiming the European vote "the battle of battles, one of those that happen every hundred years in history."
In Warsaw, the governing Law & Justice party is ready to listen. Talks between Kaczynski and Salvini were "positive and full of mutual understanding," the party's spokeswoman, Beata Mazurek, said on Twitter. They pave way for "more contact" aimed at boosting EU growth.  "Issues where there's a difference of opinions" were also raised, she said.
Italy wants the EU to enforce quotas for taking in migrants to relieve pressure on the country. East European nations like Poland and Hungary vehemently oppose taking in anyone, with Kaczynski vowing to protect his Catholic country against Muslims and Orban building a metal fence along the border.
Then there's money. Salvini says Italy should be a net beneficiary of EU funds rather than a net contributor. Poland, the biggest net recipient of European aid, is desperate to keep the status quo and face down threats from France and Germany that money could be tied to upholding the EU's democratic values.
"Rightist groups in the European Parliament haven't managed to work well together," said Charles Grant, director of the Center for European Reform. "They're against globalization and free trade. But they're divided on immigration with parties in western Europe favoring resettlement quotas, and eastern Europeans against them."
Poland is mired in an unprecedented battle over the rule of law in the country following the Warsaw government's takeover of parts of the independent judiciary. Poor relations with Europe hit Law & Justice's showing in October local elections, prompting the party to respond with a new slogan: "Poland -- the beating heart of Europe."
"Together with Italy we are an integral part of EU, we want to be its members and to have a say on its shape," Interior Minister Brudzinski said after his meeting with Salvini, who holds the same post in Italy. "Those who see us on the margins of the EU, or leaving the EU" need to know that won't happen, he said. "We want to reform the union to be close to citizens, not elites."