European Banks Plunge as Whistle-Blower Prepares for Round 2
(Bloomberg) -- After Howard Wilkinson testified to Danish lawmakers on Monday, investors started selling shares in Danske Bank A/S and Deutsche Bank AG.
On Wednesday, the former Danske employee turned whistle-blower is due to testify again, this time before European lawmakers in Brussels.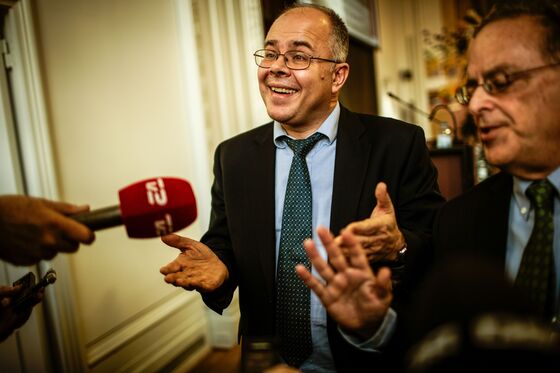 Wilkinson, a 47-year-old Briton who says he fears for his safety since revealing his identity, is behind a list of allegations that put Denmark's biggest bank at the center of one of Europe's worst ever money laundering scandals. But his testimony on Monday suggested that Danske was only in a position to funnel dirty funds around thanks to considerable help from a number of other banks.
Here's a Recap of the Key Points:

Wilkinson said on Monday there were at least 10 banks involved in the Danske laundromat.

Four were based in Russia, of which one was a unit of a U.S. bank and one was a unit of a European bank.
Three were Danske Bank entities, one in Estonia, one in Denmark and one in Lithuania.
And three were correspondent banks. Bloomberg and other news organizations have reported that the banks in question are JPMorgan Chase & Co., Bank of America Corp., and Deutsche Bank. Wilkinson said on Monday that a large European bank helped Danske handle about $150 billion in flows from Russian clients.

Wilkinson also pointed to a complex network of shell companies based in the U.K., and similar structures in Denmark, that helped facilitate the whole web of illicit trades.
If one thing is clear after Monday's testimony, it's that "this is far from over," said Joakim Bornold, a savings adviser at Nordnet AB in Stockholm. For Danske investors in particular, "it's hard to compute certain consequences that it will have. One shouldn't underestimate the risk even if the valuation is tempting."
Read Up on the Laundering ScandalCase of Jailed Banker Shows Billions Flowing From Putin's Russia
Danske Whistle Blower Talks of Hush Money, Deutsche Bank Link
Deutsche Bank Wasn't Only 'Mirror' Trader: Bank of Russia
Danske Laundromat Probe May Expand to Target Fateful Deal
Danske Chairman Is Forced Out Amid Botched Crisis Response
Right now, Danske and Deutsche Bank are neck-and-neck for the title of Europe's worst performing bank in 2018, with both down almost 50 percent amid continuing investor concerns about their involvement in money laundering.
Danske admitted in September that much of about $230 billion that flowed through a tiny Estonian unit probably needs to be treated as suspicious. The list of those now conducting criminal investigations includes the U.S. Justice Department, and both Danske's chief executive and chairman have been ousted over the scandal. The bank has said it is cooperating with the relevant authorities and that it has taken meaningful steps to improve its defenses against such forms of financial crime.
Meanwhile, Denmark's government has said it's looking into better protections for whistle-blowers amid allegations from Wilkinson that he was paid hush money by Danske to kill his story. The bank has rejected the claims.