As Chaos Engulfs Chile, a Booming Economy Suddenly Faces a Bust
Just a few weeks ago, Chile's economy was chugging along at a growth rate above 3%. Hardly anybody was worrying about a recession ahead.
And Luz Diaz probably didn't expect that she'd have to lock herself into her vegan food store in the capital, as police fought with demonstrators outside.
A month of the most widespread and violent unrest in a generation has changed everything. Analysts now expect the $300 billion economy to shrink this quarter, and they're trying to figure out if that will stretch into 2020 -- turning it into a recession.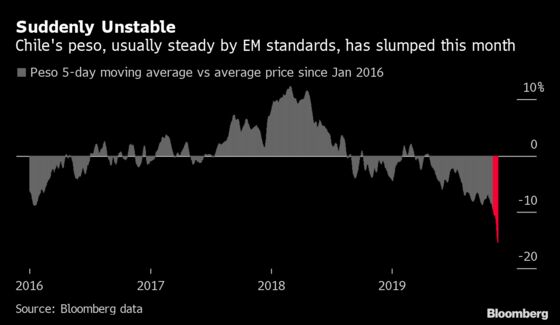 The social explosion has brought "a big increase in uncertainty," said Gonzalo Sanhueza, an economist at financial services firm Econsult in Santiago. "When that happens, investment and consumer demand freezes. And that leads to a slowdown."
Across Chile, retail sales have plunged and small businesses -– which account for about 50% of employment -- have closed their doors. Hotels are reeling from cancellations. Public infrastructure has been damaged -- including 147 street cameras and more than 300 traffic lights, the government says.
Diaz said that twice in a month, she's had to hunker down in her store in the upscale Providencia district of the capital -- and cover the windows with black plastic, to prevent protesters from spotting the wooden displays inside, and turning them into barricade fuel.
At other times, she's only been able to open for a half-day. She had to let one of her two sales staff go, and says she can't afford more closures: "We don't have savings. If we don't open the store, we don't have money to buy anything else."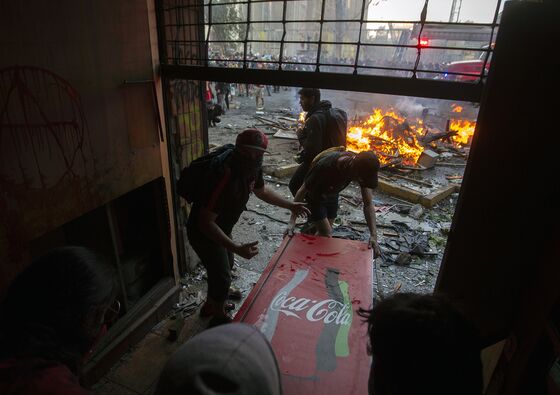 Other industries have been hit too. Agricultural output will likely shrink 2% this year, because of port stoppages and drought, according to the National Agricultural Society. Its manufacturing counterpart expects a decline of 1%, followed by a revival in 2020.
The government has promised $1.2 billion of social spending on pensions for the poor and health insurance, pushing the budget deficit to 2.9% from 2%. Chile can't afford to go further in meeting protester demands like a 50% rise in pensions, Finance Minister Ignacio Briones said Monday.
Last week, the government and opposition parties agreed to overhaul a constitution that dates to the dictatorship of Augusto Pinochet –- triggering a market rally on expectations it would appease the protesters.
Briones, who had earlier warned that 300,000 jobs could be lost, sounded more upbeat after the accord. He predicted that Chile will avoid a technical recession (two straight quarters of falling output).
Economists still see that as a 50-50 call.
The risk "is high right now, and it will rise more if the unrest extends," said Andres Abadia at Pantheon Macroeconomics. He currently expects Chile to escape recession -- but only just, forecasting 0.1% growth next quarter and warning that it's "too soon to bet on this modest gain."
UBS AG is more upbeat, expecting the economy to flatline in the current quarter and grow 0.4% in the next one. Ricardo Consiglio at the local unit of Zurich Insurance Group said his base scenario isn't a recession, but that the risk of contraction in both periods anyway remains high.
While looser fiscal policy is set to shore up the economy, the unrest may leave less room for the central bank to match that stimulus.
Last week, futures markets were pricing two 25 basis-point cuts to the bank's benchmark interest rate, currently 1.75%, over the next six months. But traders now expect just one cut, as a weaker peso raises concerns about inflation.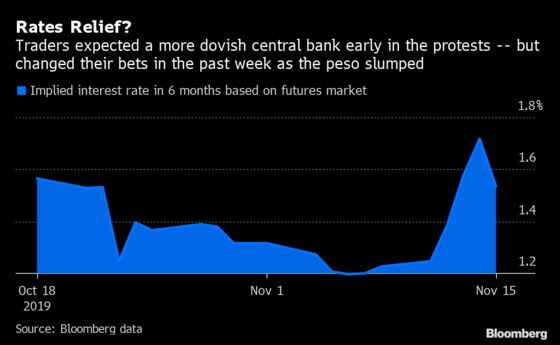 There are some brighter spots in Chile's outlook -- including the copper industry, which accounts for half of exports. It's "suffered a lot less than the rest of the country," said Joaquin Villarino head of the Mining Council.
And Chile stands to benefit if signs of easing tension between the U.S. and China –- its two main export markets –- translate into a trade deal.
But what matters most for the economy's prospects is politics at home, said Sanhueza at Econsult.
Global conditions haven't changed dramatically in recent months, "and we haven't had a natural disaster," he said. "The only thing we've had is a political and social crisis."