Armed Forces Deployed to London Hospitals Amid Omicron Surge
(Bloomberg) -- The U.K. sent 200 armed forces personnel into hospitals in London to help relieve staff shortages due to a surge in the omicron Covid-19 variant that is heaping pressure on the National Health Service.
The Ministry of Defence said it will provide 40 medics and 160 general-duty personnel for three weeks to ensure NHS hospitals in the capital are able to cope with soaring numbers of cases.
The emergency deployment comes as official data released Friday showed that more than 82,000 NHS staff in England were absent on Jan. 2, almost half for Covid-related reasons. That included 4,765 workers in London who were self-isolating, up from 4,580 the previous week.
With Boris Johnson relying on less rigorous measures than before to control the current surge of coronavirus, pressures are mounting on the country's hospitals, which even without a pandemic are often stretched in winter. Nevertheless, the prime minister earlier this week said the U.K. can "ride out" the wave of infections without locking down the country again.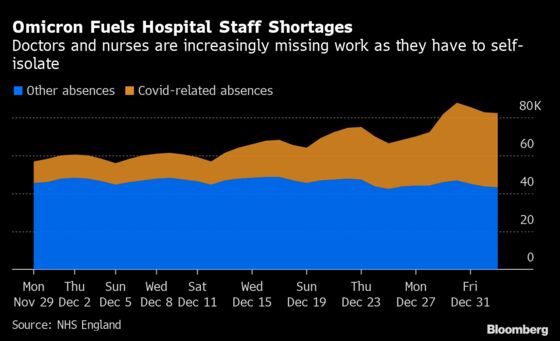 Adding to the strain on the NHS, admissions are rising: London hospitals have more than 4,000 Covid-19 patients, up from just over 1,000 at the start of December.
"Omicron means more patients to treat and fewer staff to treat them," NHS national medical director Stephen Powis said in an emailed statement. "Covid cases in hospitals are the highest they've been since February last year -– piling even more pressure on hard-working staff."
Sixteen hospital trusts declared critical incidents on Friday, according to a person familiar with the matter -- an indication they may not be able to provide a full range of priority services -- down from 24 on Thursday.
Instead of imposing tighter restrictions, Johnson has chosen to keep the economy open and is relying on an accelerated program of vaccination boosters to contain the pressure on the health service.
A third vaccination shot provides people with about 88% protection against needing hospitalization due to omicron, the Department for Health and Social Care said on Friday. The unvaccinated are as much as eight times more likely to need hospital treatment for Covid, it said.
The reproduction rate of Covid in England is currently estimated at between 1.2 and 1.5, the U.K. Health Security Agency said, meaning 10 infected people will spread the virus to 12-15 others.
Military medics will help NHS staff in London with patient care, while general duty personnel will support with tasks such as maintaining stocks, checking in patients on arrival and conducting basic checks, the defense ministry said in a statement.
Another 32 military personnel will be deployed to the South Central Ambulance Service, which covers a region of southern England, to work alongside paramedics until the end of March.