Argentine President Fights Back as VIP Vaccine Scandal Grows
(Bloomberg) -- Argentina's President Alberto Fernandez said a growing scandal over Covid-19 vaccine line-cutting involving officials and key political allies is an overblown media campaign and rejected suggestions that any crime was committed.
Using a combative tone, Fernandez on Tuesday said that while he rejected the "irregular" vaccinations, it had already cost the resignation of his health minister Gines Gonzalez Garcia and did not amount to a crime. The statements follow local reports that a federal judge ordered a search warrant on the Health Ministry and a probe on Gonzalez Garcia following the publication of a list of about 70 people vaccinated out of turn.
"Without a doubt, it's a reprehensible act because in the circumstances in which we live in, nobody can support that someone has the possibility to get vaccinated ahead of time," Fernandez said during a press conference in Mexico City, standing alongside Mexican President Andres Manuel Lopez Obrador. "There's no crime in Argentina that says one will be punished for skipping the line -- that crime doesn't exist."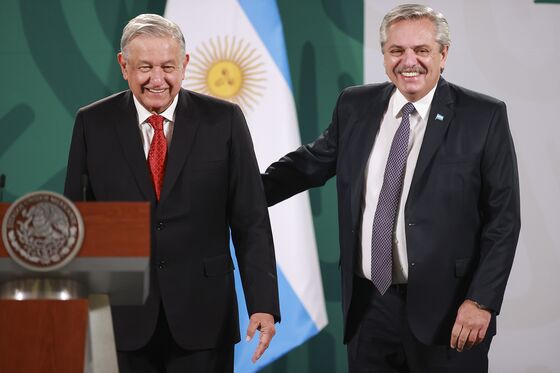 A spokesman for Argentina's Health Ministry didn't respond to requests for comment on the reported raids at the government offices. Newly appointed Health Minister Carla Vizzotti announced Tuesday that her team will create a commission to monitor how vaccines are administered to "strategic" people. The ministry plans to publish a list of the individuals who qualify under the new protocols.
Fernandez added that a list of vaccine recipients published late Monday needs to be examined more closely as some of the people in it include strategic personnel. He urged media to instead investigate corruption under the previous administration.
The scandal, dubbed "VIP vaccinations" locally, has diverted attention away from Fernandez's most important foreign policy trip, where government strategists sought to brandish his image as a leader of vaccines in Latin America. Mexico and Argentina are co-producing the AstraZeneca Plc. vaccine for use in the region.
The list's disclosure furthered public outcry as it showed mid-level government officials -- including young aides -- and family members among the recipients, breaking with protocols that essential workers at hospitals and senior citizens be first in line.