Argentina's Economic Curse Looms Over Election
Buenos Aires was a boomtown in the 1880s, as Argentina's abundant natural resources helped fund opulent mansions, Parisian boulevards and Utopian plazas.
That cycle of misery lies at the root of the country's economic and political upheaval to the present day, and as Patrick Gillespie reports, is set to dominate this year's presidential elections. Primaries are set for Aug. 11.
President Mauricio Macri is investors' clear favorite, despite inflation running at about 40% and the economy still in recession after a record $56 billion International Monetary Fund bailout.
They fear his main opponent, Alberto Fernandez, isn't the moderate he claims to be, a concern magnified by his choice of running mate: Cristina Fernandez de Kirchner, the former president. She is blamed by her opponents for alienating Argentina internationally by driving the economy into the ground, tampering with official statistics and refusing to pay debt holders — leaving Macri to pick up the pieces.
But that's not necessarily how voters see it: Polls show the race is wide open.
Even for Argentines used to roller-coaster politics, this election looks decidedly bumpy.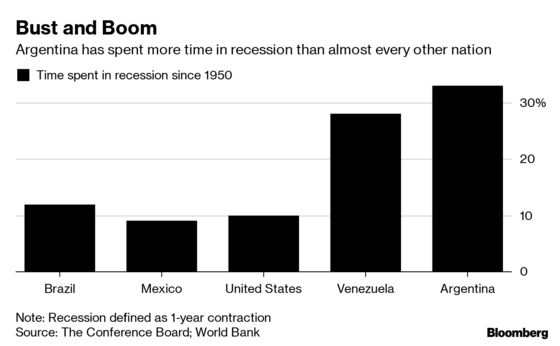 Biden bites back | Eager not to falter again, Joe Biden abandoned his pledge never to speak ill of a fellow Democrat, fiercely battling charges in the second debate that he's a relic of the past. The front-runner had clearly studied his rivals' weaknesses and didn't hesitate to counter-punch against challengers including Kamala Harris, Cory Booker and Julian Castro.
Brexit splash | Prime Minister Boris Johnson keeps saying he's serious about getting the U.K. ready to quit the European Union without a deal, and he's followed his words with actions by doubling the spending to prepare for such an eventuality. The pound keeps dropping, and the corporate world is not happy with manufacturing stuck in its worst slump in six years.
Adversaries meet | China's accusations of U.S. interference in Hong Kong's unrest didn't stop Secretary of State Michael Pompeo and Chinese Foreign Minister Wang Yi from meeting in Bangkok today. Their tete-a-tete was expected to be chilly after Wang publicly rebuked the U.S. during a sitdown last year, but China's readout was low-key and focused on North Korea. It came as trade negotiations in Shanghai yielded incremental signs of progress.

Slap on the wrist | U.S. President Donald Trump's administration imposed largely symbolic sanctions against Iranian Foreign Minister Javad Zarif. They block access to his property in the U.S. — he said in a tweet he has none — but don't prevent him from traveling to the United Nations in New York. It's a provocative move that diminishes the prospects for a diplomatic solution to rising tensions that have brought the U.S. and Tehran to the brink of war.
 

Not enough? | The Federal Reserve cut interest rates for the first time since the economic crisis but, with stocks high, unemployment near the lowest point in half a century and consumer spending strong, the central bank resisted pressure from Trump to turbocharge the longest U.S. expansion in history. The president, whose trade war with China is seen as a threat to the global economy, lambasted Fed chief Jerome Powell, saying he "let us down."
Bank of England Governor Mark Carney will confront the new realities of Brexit and the increasing likelihood of a no-deal departure from the EU in the central bank's interest-rate decision today.
As the Taliban escalates attacks in Afghanistan for leverage in peace talks with the U.S., the nation's army remains seriously shorthanded, according to a report. The challenges won't disappear if the U.S. strikes a peace accord so its forces can withdraw.
Rwanda closed its border with the Democratic Republic of Congo in a bid to stop the spread of an Ebola outbreak that the World Health Organization has declared the second-deadliest in history.
And finally ... Trump is finally getting his way with a wall, only it's not along the U.S. southern border but in southern Africa. The U.S. is putting up $475,000 to help restore the stone walls at Great Zimbabwe, a fortress that dates to the 11th century and gave the country its name. Much of the funding will go toward keeping out an unwanted intruder from the West Indies known as the lantana camara weed that's threatening the structure.