Argentina's Balance Sheet Looks Better. The Real Economy Doesn't
(Bloomberg) -- Argentina is moving in the right direction according to several measures closely watched by investors, but labor market data that's key for ordinary citizens reflect a different reality.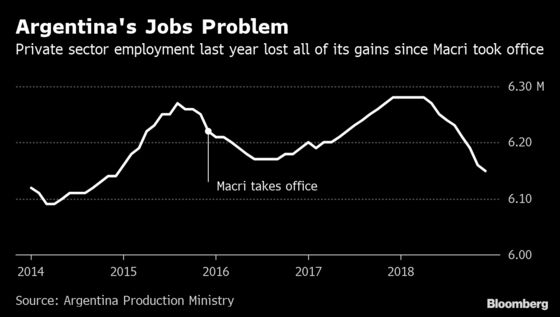 Argentina's private sector shed 10,500 salaried jobs in December from a month earlier, the government said on Thursday. Salaries likely lagged behind inflation, which is about 50 percent.
While voters will use job and wage growth to evaluate President Mauricio Macri, who's running for re-election Oct. 27, investors have been encouraged by other indicators. Argentina has recorded five straight monthly trade surpluses after more than a year of deficits. Meanwhile, the government is close to balancing its budget as part of a $56 billion credit line with the International Monetary Fund.