Argentina Default Could Be Cured Quickly, Investors Say
(Bloomberg) -- Even if Argentina defaults for the ninth time in its history, creditors say the issue could be cured quickly as the two sides work to restructure $65 billion in overseas bonds.
Although an event of default will be hard to avoid for Argentina, there is willingness to resolve the negotiations, said Greylock Capital Management LLC's Chief Executive Officer Hans Humes at an online event. The country is just a day away from a May 22 deadline, when $500 million in overdue payments come due.
Humes, whose fund is part of one of three key creditor groups, the Argentina Creditor Committee, said that a resolution was in all parties' best interest, and that greater flexibility was needed by both sides to reach an agreement.
"Any kind of default event can be cured in short order," Humes said. "I would hate to have something as disorderly as a hard default."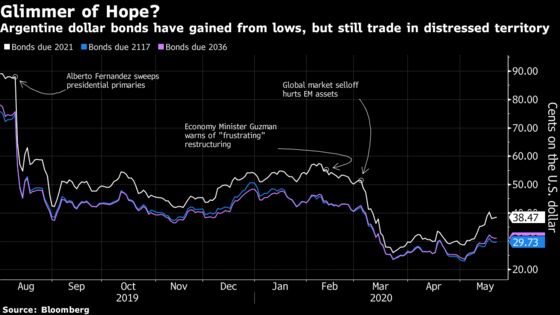 Even if there's a default, that wouldn't be immediately followed by litigation because taking legal action amid the talks wouldn't be productive, said Guggenheim Securities' senior managing director Mark Walker, a restructuring expert.
Argentina said it would extend the deadline for creditors to consider an initial debt restructuring offer until June 2 as both sides need more time reach a deal, according to a government statement. The government received two formal counteroffers from creditors last week, after the bondholder groups roundly rejected an initial government offer.
The government is planning to stick to the same formal offer it presented in mid-April, allowing several more weeks for talks between the parties to continue, said the people, who could not be named because the negotiations are private. In the meantime, Argentina plans to miss a delayed interest payment on about $500 million due Friday, the people said.
The Exchange Bondholder Group -- alongside the Argentina Creditor Committee, Fintech Advisory and Gramercy Funds Management -- submitted a joint proposal to the government last Friday that people familiar with the matter said would give bondholders about 55 cents on the dollar. A separate group that includes BlackRock Inc., Ashmore Group Plc and Fidelity Investments sent a plan that the people valued at about 59 cents on the dollar.
After several weeks of impasse, some progress has been made in recent days. In an online forum Tuesday, Economy Minister Martin Guzman said there was a "big chance" that negotiations extend past Friday.
"We are having a constructive dialog with the bondholders," Guzman said.
Negotiations started more than two months ago, and Argentina's proposal had sought $40 million of debt relief and a three-year moratorium on debt payments. The country, home to South America's second-largest economy, says it can't meet its obligations amid high unemployment, a sharp drop in the value of its currency, accelerating inflation and a deep recession made worse by the coronavirus pandemic.