Arbery's Killing Was Self-Defense or Murder, Jurors Are Told
(Bloomberg) -- A Georgia jury will begin deliberating Tuesday in the murder trial of three White men over the death of Ahmaud Arbery, a 25-year-old unarmed Black man whose shooting last year became central to Black Lives Matter protests nationwide.
During closing arguments on Monday in Brunswick, a prosecutor told the jurors that Arbery was jogging and posed no threat to anyone when the men, one armed with a shotgun, pulled up in a pair of trucks and demanded he stop and explain why he was running and what he was up to. Defense lawyers, in their own closings, told the panel that Arbery had been lurking in the area and that their clients believed he might be dangerous.
The three -- including Travis McMichael, who pulled the trigger in a struggle with Arbery -- had chased him "because he was a Black man running down the street," Cobb County Assistant District Attorney Linda Dunikoski told the panel of 11 White jurors and one person of color.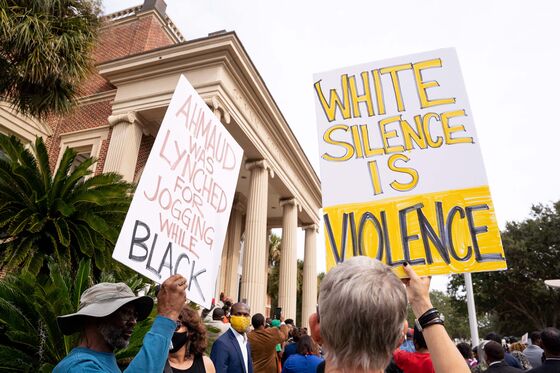 "But for their actions, but for their decisions, but for their choices, Ahmaud Arbery would be alive," she said.
McMichael's lawyer Jason Sheffield told the jury there was "overwhelming evidence" that his client acted in self-defense, fearing Arbery would disarm him in the moments before he fired three blasts.
"If this guy gets a hold of my shotgun, it's not going to end well," Sheffield said McMichael was thinking at the time. "Is there any question that Ahmaud Arbery is assaulting Travis McMichael right before that third shot?"
The closing statements in the racially charged case come three days after a jury in Kenosha, Wisconsin, acquitted 18-year-old Kyle Rittenhouse of all charges in the shooting deaths of two men and the wounding of a third at a chaotic Black Lives Matter protest last year. The jury in that case, also made up of 11 White people and one person of color, accepted Rittenhouse's claim that he brought his AR-15-style semiautomatic rifle to the rally to protect local businesses from looting and that he fired only in self-defense.
And, as in the Rittenhouse case, the evidence in the Arbery trial included graphic video of the killing.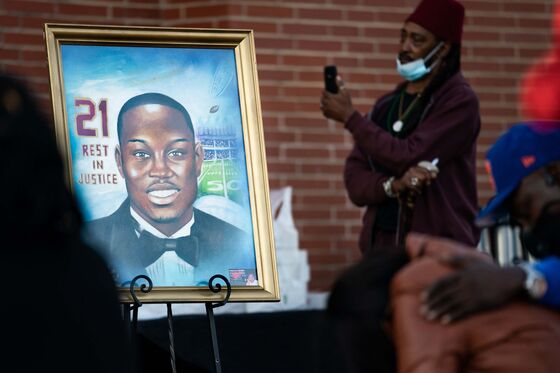 The three defendants are McMichael; his father, Greg McMichael; and their neighbor William "Roddie" Bryan, who helped block Arbery with his vehicle on Feb. 23 of last year. The charges against them include felony murder, false imprisonment and aggravated assault with the shotgun and the pickup trucks. They pleaded not guilty and claim self-defense.
"They all acted as a party to a crime," Dunikoski said.
She told the jury that the defense is illegitimate because the three men were the ones who provoked the violence. And they can't credibly claim they were making a citizen's arrest, as they do, because they didn't witness Arbery commit a crime, she said. 
"This case is really about assumptions and driveway decisions," she said. The three men "made assumptions based on gossip and rumors" about break-ins in the neighborhood, with no "probable cause that a crime had been committed."
Greg McMichael's lawyer Laura Hogue used her closing to portray a community of "neighbors who cared for each other" banding together in a crisis to carry out the citizen's arrest on a suspicious character. Arbery "didn't live there, he didn't work there, he didn't have friends there," and was "a recurring nighttime intruder," Hogue told the jury, adding that the state's claim he was out jogging was belied by his wearing cargo shorts and no socks, with "long, dirty toenails."
The state acknowledged that Arbery had been caught on camera repeatedly trespassing on a property under construction in the area -- as had others, including White people -- but said he never took or damaged anything.
Hogue worked to set her client apart from his son, who fired the shots while his father was calling the police. 
"Greg McMichael pulled no trigger," Hogue said. "How could the state charge Greg McMichael with malice murder when he was standing in the bed of the truck on the phone?" 
Bryan, who helped block Arbery with his truck and recorded much of the chase, was a witness to the shooting and not a participant, his lawyer Kevin Gough told the panel. 
Gough ended his closing statement as he began it, with three questions for the jury.
"When did Roddie Bryan know the McMichaels brought guns?" he urged them to ask. "When did Roddie Bryan know Travis McMichael would shoot" Ahmaud Arbery? And at that point, "what could Roddie Bryan have done to stop it?"