Arab League Warns Brazil Over Possible Israel Embassy Transfer
(Bloomberg) -- The Arab League advised Brazilian President-elect Jair Bolsonaro to reconsider his plans to transfer the South American country's embassy in Israel to Jerusalem.
A letter from the Arab League secretary-general, Ahmad Abu Al Ghait, to the Brazilian foreign office and obtained by Bloomberg stressed the organization's "concern" over a possible move. "Taking a step like this would not just harm Palestinian interests but would reduce drastically the opportunities to reach a wide-ranging peace," the letter stated.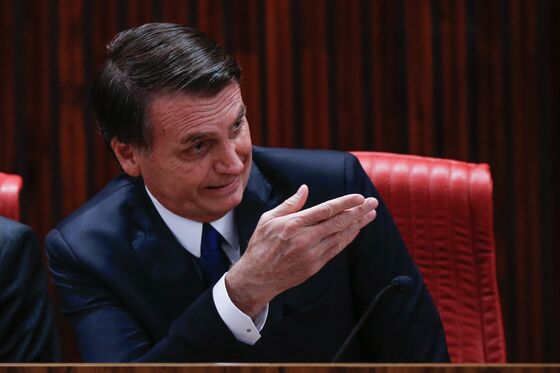 A copy of the letter was independently verified by a representative of the Arab League in Brasilia who requested not to named as he was not authorized to comment. The current administration and the incoming foreign minister did not respond to requests for comment.
The Arab League's letter marks one of the most serious warning to Bolsonaro on a major foreign policy issue so far. It comes in response to Bolsonaro's repeated comments that he intends to follow in the footsteps of the U.S. and move Brazil's embassy from Tel Aviv to Jerusalem. During his election campaign, Bolsonaro pledged to deepen ties with Israel, tearing up years of conventional Brazilian foreign policy. Shortly after his victory, the president-elect told an Israeli newspaper of his intention to move the embassy. Since then, however, he appears to have backtracked somewhat.
The Arab League represents an important market for Brazilian exporters. The country ran a $7.1 billion surplus with the 22 nations of the Arab League in 2017, compared with a $419 million deficit with Israel.
In his letter, Abu Al Ghait stressed the longstanding nature of Arab-Brazilian relations and its potential to grow. The secretary-general urged Bolsonaro to "take into consideration the Arab point of view as a way to preserve our long-standing friendship."