Arab League Mulls Measures Against Brazil's Jerusalem Office
(Bloomberg) -- The Arab League intends to send Brazil a political message against its decision to open a trade office in Jerusalem, two senior Arab diplomats said.
A meeting to discuss the issue was proposed by the Palestinian Authority and endorsed by other members of the league, including Egypt and Jordan. It will take place on Thursday morning at the league's headquarters in Cairo.
The intention is to send "a warning against any violation of Jerusalem's status," Ambassador Qais Marouf Kheiro Shqair, the Arab League representative in Brazil, said in a phone interview. "Jerusalem is an occupied city according to international law and its status can only be discussed through negotiation."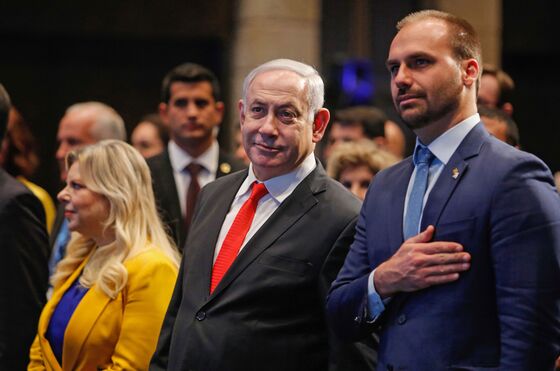 Brazil opened its Jerusalem trade office last week in a ceremony with Israel's Prime Minister Benjamin Netanyahu and the son of Brazilian President Jair Bolsonaro. The office was an intermediate solution found by the Brazilian government after Bolsonaro's promise to transfer the embassy to Jerusalem suffered strong backlash from its trading partners in the Middle East.
Yet, after last week's ceremony, Senator Eduardo Bolsonaro, the Brazilian president's son, said in a Twitter post the office was a first step before the Brazilian embassy is transferred to Jerusalem from Tel Aviv next year.
Ibrahim Alzeben, the Palestinian ambassador to Brazil, urged the country to withdraw its trade office from Jerusalem. Political, diplomatic and economic measures will be discussed at the meeting on Thursday, he said without elaborating.
"We consider it a provocation," he said in an interview.
Brazil's foreign affairs ministry cited Bolsonaro's recent visit to the United Arab Emirates, Saudi Arabia and Qatar as proof that the South American nation continues to have excellent relations with Arab countries. The trade office in Jerusalem won't harm those ties, it said in a statement.
Brazil exported $10.3 billion to the 22 nations that comprise the Arab League between January and October, a 10.7% increase from the same period a year earlier.