Apple's Cook, IBM's Rometty, Ivanka Trump Tout Job Training
(Bloomberg) -- Apple Inc. Chief Executive Tim Cook and IBM Corp. Chairman Ginni Rometty launched the "Find Something New" campaign with the White House on Tuesday, encouraging Americans to retrain or seek new job opportunities and employers to loosen degree requirements in favor of skills-based hiring.
The private sector campaign, backed by The Ad Council and a coalition of business supporters, promotes education and training opportunities for students and adults across the U.S. as the coronavirus pandemic has left millions out of work and as Congress prepares for negotiations on a new round of aid.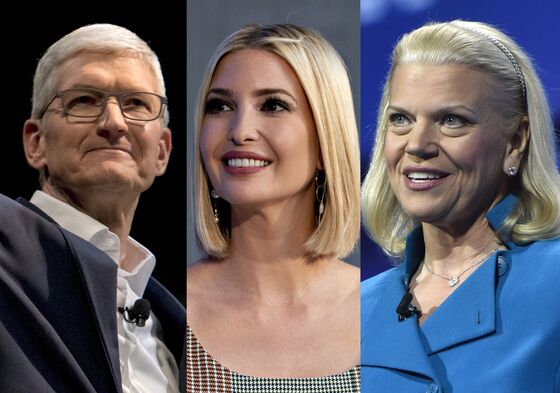 Ivanka Trump, a senior aide to and a daughter of President Donald Trump, joined Cook and Rometty in a virtual roundtable event Tuesday. Ivanka Trump co-chairs the White House's American Workforce Policy Advisory Board and has spearheaded its "Pledge to America's Workers" program, in which firms make non-binding commitments to train staff.
"We should encourage a college education, of course, and we do celebrate it," Ivanka Trump said during the webinar. "But we have to stop telling students and workers that this is the only viable option."
Increasing the pathways to new careers will also help mid- and late-career workers, in a push that predates the pandemic, she added. "Now, as a result of Covid, people need to, unfortunately, in some cases learn a completely new skill, but that is also an opportunity to be put on a new trajectory," Ivanka Trump said.
The Ad Council launched the initiative Tuesday. Funding for the ad campaign is provided by 20 organizations including Apple, IBM, The Home Depot Inc., Lockheed Martin Corp. and others. There's no federal funding for the initiative.
Among the "rising careers" listed by the initiative is "contact tracer," workers who alert people who come in contact with an infectious disease -- like the coronavirus -- and help them get the care they need.
Rometty thanked Ivanka Trump for her "tireless leadership" on skills training, and touted the need for new paths to jobs and training, such as apprenticeship programs. "It encourages all companies to adapt and embrace a skills-first hiring paradigm -- and that means don't look just at a degree, but look at the skills someone has, and let them get started," Rometty said.
The digital transformation of the economy was already spurring the need for people to develop new skills, a problem exacerbated by Covid, Rometty said.
"We believe that, with the right tools, people have the power to change their lives and the lives of their families for the better," Cook said during the webinar. It will take a joint effort by business, labor leaders, educational institutions and governments, he said.