Another Ukrainian Central Banker Speaks Out on Governance Fears
(Bloomberg) -- A deputy head of Ukraine's central bank said reforms had damaged governance and threatened independence at the institution, adding to similar complaints by one of her colleagues and fanning a spat with the governor appointed by President Volodymyr Zelenskiy last year.
The comments, in an interview Wednesday with Novoye Vremya, immediately raised tensions as it emerged that the bank had asked the website to suppress some of what First Deputy Governor Kateryna Rozhkova had said. Concern over central-bank independence has contributed to delays in Ukraine's $5 billion loan program with the International Monetary Fund.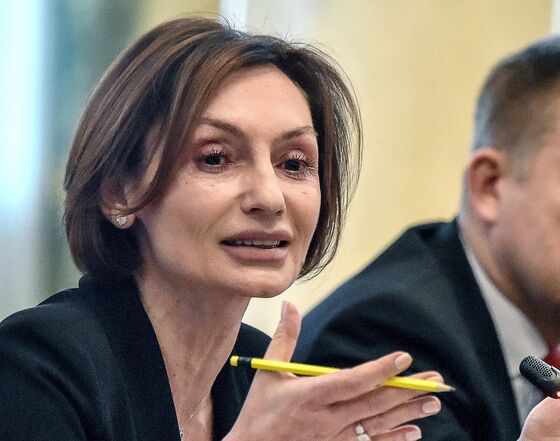 Rozhkova, one of two remaining deputies who worked under Governor Kyrylo Shevchenko's predecessor, echoed remarks in January by fellow deputy Dmytro Sologub that decision-making at the bank is becoming too centralized around the new head.
Central-bank regulations envisage officials being "able to express your stance on the issues you're in charge of professionally," said Rozhkova, who's overseen banking supervision since 2015 but had her remit narrowed after Shevchenko took charge.
The central bank's press department denied Rozhkova's accusations of censorship, reiterating that officials are expected work under a 'one-voice' policy.
"Each central-bank official, and especially its top managers, should care about the bank's reputation and shouldn't hurt it," spokeswoman Halyna Kalachova said on Facebook.