Another Jacob Rees-Mogg Bet Turns Sour
(Bloomberg) -- As Brexiteer Jacob Rees-Mogg struggles to garner enough support to oust Theresa May, one of his investment firm's wagers is also looking questionable.
Somerset Capital Management, which the U.K. lawmaker founded, massively increased its long position in Alpha Bank AE this year. But the Greek lender has seen its stock price plunge by around 40 percent in 2018 amid lingering doubts about the mountain of bad loans weighing on its balance sheet.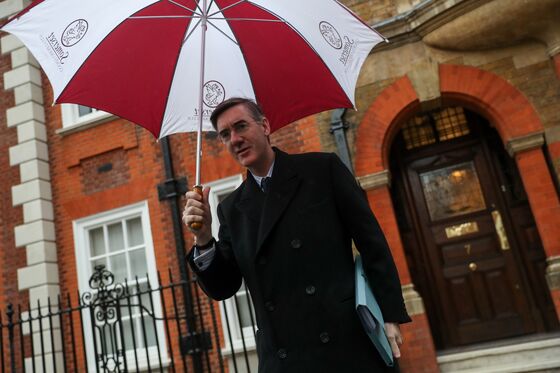 The investment firm's misjudgment comes as Rees-Mogg's political reputation as the darling of the Conservative Party's right wing takes a knock. His attempt to depose Prime Minister May by encouraging colleagues to write letters of no confidence has so far failed.
"Jacob Rees-Mogg does not manage any money at Somerset Capital Management and has not done for a number of years," said Oliver Crawley, a partner at the company. "He is one of several shareholders."
Somerset owned a 1.46 percent stake in Alpha Bank as of Oct. 31, according to data compiled by Bloomberg. At the time it was worth about 30 million euros ($34 million). While Somerset first disclosed a holding in the lender on Sept. 30, 2017, it acquired most of its stake in the first quarter of this year, fund filings show.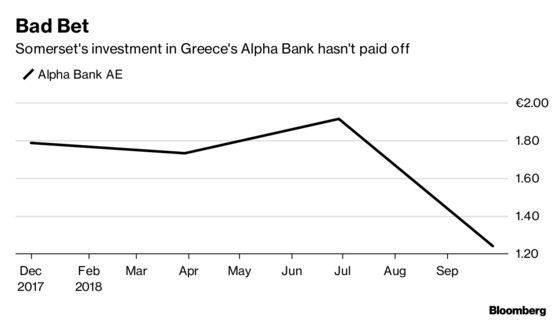 In that three-month period, Alpha Bank traded in a range of 1.68 euros to 2.12 euros, with an average price of 1.93 euros. On Tuesday, the stock dropped 8 percent to close at a record low of 1.07 euros in Athens, suggesting that the bet has been a losing one for Rees-Mogg's firm. The slump is system-wide, with the Athex Banks index dropping 53 percent this year.
Alpha's shares were up 2.7 percent in Athens trading as of 1:09 p.m. The banking index rose 2 percent.
The investment company has a total of $7.5 billion in assets under management.