Andrew Yang Vows to Better Tackle Anti-Asian Violence in NYC
(Bloomberg) -- Andrew Yang, the front-runner in the race for New York City mayor, said he would funnel more resources to organizations supporting Asian Americans and encourage political activism to tackle rising violence against the group.
"It's been a devastating time for our community," Yang, who if elected would become the first Asian American to hold the office, said at a virtual forum Tuesday evening. "I'm going to do everything I can to help the Asian American community get back on our feet."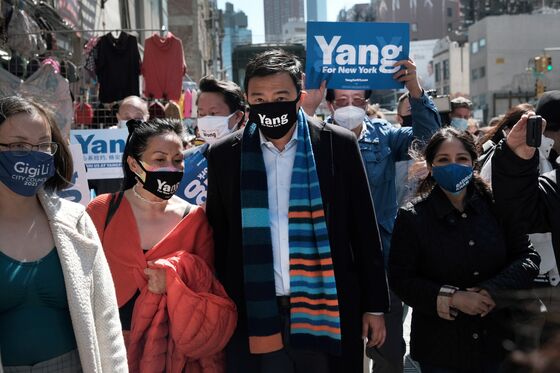 The forum, hosted by the Asian American Federation, featured seven candidates who shared their plans on combating anti-Asian hate crimes and leading the post-pandemic recovery for Asian communities in the city. Brooklyn Borough President Eric Adams; Shaun Donovan, former HUD secretary; Kathryn Garcia, former NYC Sanitation Department commissioner; ex-Citigroup Inc. banker Ray McGuire; Scott Stringer, New York City comptroller, and Maya Wiley, the former counsel to Mayor Bill de Blasio also participated.
"We can transform the way that Asian Americans" fit into New York City, Yang said, adding he would ensure community organizations get a fair share of city funding, as well as tackle the unemployment and mental health issues that underpinned many violent attacks during the pandemic. He also advocated for funding the Police Department's Asian Hate Crimes Task Force and being "more ambitious" about labeling incidents as hate crimes.
Yang has emerged as the lead candidate with the most support from likely Democratic voters, followed by Adams and Stringer, according to a recent poll from NY1 and Ipsos. The Democratic primary will take place June 22, followed by a general election Nov. 2.
Among major U.S. cities, New York had the largest increase in reported hate crimes against Asians last year. Last month, a 65-year-old Filipino woman was kicked repeatedly outside a Midtown Manhattan luxury apartment building, her assailant allegedly yelling "you don't belong here." Last Friday night, a 61-year-old Chinese man collecting bottles in East Harlem was stomped in the head and left in critical condition.
Asians make up about 14% of the city's population, lower than the 24% share by Black people and 29% by Hispanics, according to Census data. Engaging with minority voters is critical for any mayoral hopeful, and candidates like McGuire and Adams have been courting the support of Black churches, which play an outsize role in New York politics.
On Tuesday, Adams said Asian-owned businesses took a double hit during the pandemic as the targets of shutdowns and prejudices, and investment should be directed to bringing them back and helping navigate any language barriers for government resources.
When asked about the city's plan to build a new jail in Manhattan's Chinatown, a hot button issue, candidates including Adams, McGuire and Stringer said they wouldn't support the construction. Yang said he would re-examine the city's four-jail project "from A to Z."
Yang, a son of Taiwanese immigrants who amassed name recognition through his 2020 presidential run, has worked to engage Asian voters by talking about prejudice he has experienced. On Tuesday, he said he would be "activating the Asian American community politically, because right now, many kids grew up the same way I did, where we didn't talk about politics."
However, some of Yang's viewpoints have been controversial within the Asian community. Last year, Yang wrote an op-ed in the Washington Post asking fellow Asian Americans to step up and show their "American-ness" in the face of hate and attacks, including by wearing "red white and blue." Amid criticism, Yang has since said that line was "probably a bit confusing."