An Empty Chair Embodies Democrats' Frustration
Tensions between the Trump administration and congressional Democrats have been steadily building, and Attorney General William Barr's refusal to appear today before House lawmakers could ignite the tinderbox.
After five contentious hours before a Republican-controlled Senate panel defending President Donald Trump's actions, Barr denied Democrats in the House their chance to confront him face-to-face about his handling of Special Counsel Robert Mueller's Russia investigation. The Justice Department objected to plans to allow staffers to question Barr.
Judiciary Chairman Jerrold Nadler plans to convene the hearing anyway and accused the executive branch of "trying to blackmail the committee" by dictating the hearing's format. Nadler raised the possibility of subpoenaing the attorney general, potentially setting up a protracted court battle.
One of the key issues Democrats – who accuse Barr of acting as Trump's personal lawyer – want to probe is whether he misled lawmakers in testimony last month. Barr was asked then about concerns Mueller and members of his team might have had with a four-page summary of Mueller's findings that Barr released more than three weeks before the full report was unveiled. 
Barr has secured his spot as a central figure in the increasingly partisan standoff between Capitol Hill and the White House. Amid a growing chorus of Democrats calling for his the attorney general's resignation, Trump praised Barr's performance, telling the Fox Business Network last night that he "did a fantastic job."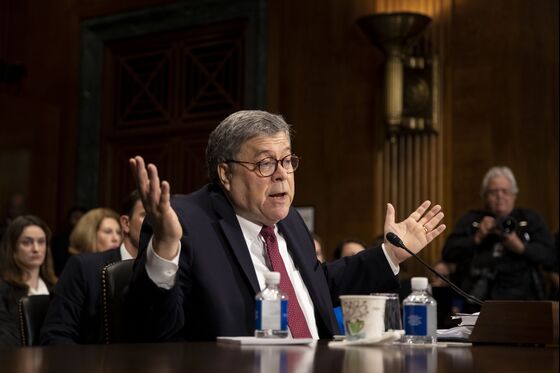 Biden's shadow | Joe Biden's entry into the 2020 presidential race has left the other 19 Democratic contenders in a bind. With the 76-year-old former vice president solidifying his lead in polls and fundraising – and attracting a barrage of criticism from Trump – it's clear the campaign has entered a new phase. Most rival candidates are still introducing themselves to the country, and no longer have the luxury of building a following at their own pace.
List gets longer | The European Union protested Trump's decision to allow litigation against foreign firms doing business with Cuba. The enforcement of the Helms-Burton Act's controversial clause as of today will "cause unnecessary friction and undermines trust and predictability in the transatlantic partnership," the bloc said. The rift adds to disagreements ranging from climate to Middle East policy, which have strained a crucial political and economic alliance.
The enemy within | South Africa's election on Wednesday isn't a question of if the African National Congress will win, but whether President Cyril Ramaphosa can secure a big enough mandate to overcome foes in the ruling party and undo the damage left by scandal-ridden predecessor Jacob Zuma. As Antony Sguazzin reports, a solid share of the popular vote would give Ramaphosa the political capital to push through changes needed to repair growth and investor confidence.
No-shopping Sundays | Italy's coalition government is weighing mandatory store closures on the weekends in an effort to reinforce family values and promote traditional activities such as attending Mass and Sunday lunch at home. But, as Chiara Albanese and Jerrold Colten report, the measure could hurt both the conservative League party and the anti-establishment Five Star Movement, by potentially shaving 9.4 billion euros off the country's GDP.
Australia's populist wave | Support for populist, single-issue parties is dragging the social agenda of Australia's mainstream politics to the right. Fringe lawmakers such as anti-Muslim immigration campaigner Pauline Hanson could play a role in setting the legislative agenda, no matter which major party wins this month's election, Jason Scott reports.
U.K. Prime Minister Theresa May's Conservative Party faces big losses in local elections today as voters protest her handling of Brexit.
China may declare its first stealth fighter operational this year as it also develops long-range bombers capable of carrying nuclear weapons, Tony Capaccio exclusively reports, part of a buildup the U.S. is closely monitoring.
Japanese Prime Minister Shinzo Abe told a newspaper he's willing to meet with North Korea's Kim Jong Un for a "candid discussion" without any preconditions, potentially opening up another avenue of negotiation for Kim after his summit with Trump broke down in February.
And finally …If you thought Brexit was difficult, there's another problem facing Parliament that seems impossible to solve. Lawmakers complain of mice dancing over their feet, making nests in old paperwork, brazenly stealing crumbs and – in the clearest attack yet on the British way of life – eating through one lawmaker's store of tea. Parliamentary authorities have spent half a million pounds in five years trying to deal with rodents and other pests, with no end in sight.