Amnesty India Decries Crackdown on Dissent as Offices Raided
(Bloomberg) -- Amnesty International said financial crimes investigators raided their India offices and froze bank accounts as part of a "disturbing pattern" of harassment against civil society groups by Prime Minister Narendra Modi's administration.
Around a half-dozen officials from India's Enforcement Directorate, which looks into financial crimes and foreign direct investment violations, searched the non-profit organization's office in Bengaluru, formerly Bangalore, over a 10-hour period until midnight on Thursday, the group said on Twitter. Anil Rawal, a spokesman for the Enforcement Directorate in New Delhi, confirmed the search and said it was conducted after the agency received a tip about potential FDI violations.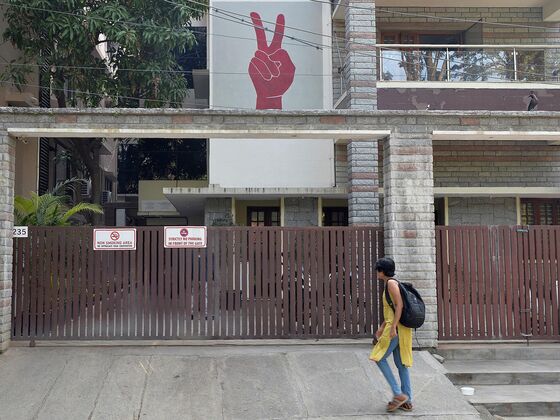 In a statement, Amnesty said it was compliant with necessary laws and that its staff was questioned about documents that were publicly available or already filed with the government. The group said it has become "the latest target of the government's assault on civil society" after Greenpeace's accounts were frozen earlier this month. The raid comes after numerous activists working with impoverished tribal communities were arrested in late August for alleged links to radical left-wing groups.
"Government authorities are increasingly treating human rights organizations like criminal enterprises," Amnesty India director Aakar Patel said in a statement on Friday. "As an organization committed to the rule of law, our operations in India have always conformed with our national regulations."
A spokesman for the prime minister's office, Jagdish Thakkar, did not respond to calls or texts for comment on Friday.
Rawal denied the Enforcement Directorate was being used to silence critics.
"If an investigation is conducted, it's not that somebody is trying to push you to a corner," Rawal said on the phone from New Delhi. "We will book a case against them only if something comes up. Until then, they are as free as anyone else."
India's civil society groups have accused Modi's government of creating an "atmosphere of fear" for activists since it came to power in 2014.
Foreign charities and non-profits are closely monitored for alleged violations of foreign-funding rules. Modi's government has previously suspended Greenpeace's license and froze its bank accounts for alleged violations in 2015. That same year, the Ford Foundation was also asked to get advance approval before releasing funds to Indian charities.
The Enforcement Directorate said Amnesty was trying to "bypass" government regulations. Amnesty has denied those charges. "Details of our current structure, which was the focus of much of the questioning, have been available on our website since 2014," Amnesty said.
An analysis by a United Nations special rapporteur found India's application of foreign funding laws was limiting charities' ability to help millions of Indians, and was based on vague notions such as preventing "activities detrimental to the national interest."
The total number of non-profits that can receive foreign funding has fallen sharply, according to one report in the Times of India.
"No individual or organization can claim themselves above due process of law," said Nalin Kohli, a national spokesman for the BJP. "If anyone is innocent and has compiled with all legal and statutory requirements, they have nothing to worry about."