Mexico's President-Elect AMLO Lays Out Broad Plan to Curb Surging Violence
(Bloomberg) -- President-elect Andres Manuel Lopez Obrador laid out a broad program Wednesday to curb surging violence, saying his government will focus on stopping the most brutal crimes and creating jobs for youth.
Main points of the strategy include creating a national guard and stressing regional coordination of security efforts, eradicating corruption, rethinking the prohibition of some drugs and creating job opportunities, Lopez Obrador and members of his cabinet said. A key will be de-emphasizing the fight against drug cartels, focusing instead on roots of crime, Lopez Obrador said.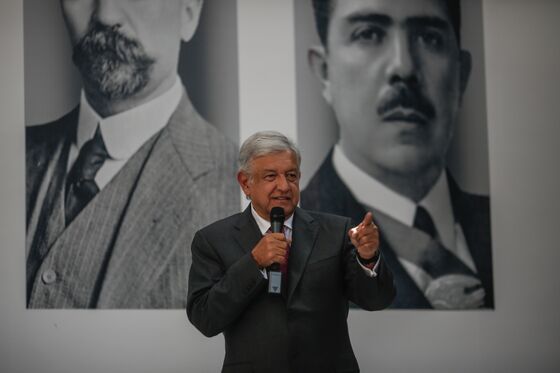 The next government's security priority will be protection of citizens from the most violent crimes, such as robbery, extortion and murder, said Alfonso Durazo, the incoming minister of public security. Homicides have almost doubled over the past three years to more than 21,000 through September, according to data from the national security system.
Lopez Obrador described his strategy as 80 percent geared towards addressing the roots of insecurity and violence, as compared with confronting existing criminal groups. He also underlined the need to refocus on what he called family values.
"Violence can't be faced with violence, fire can't be put out with fire, and you can't confront evil with evil," Lopez Obrador said. "Evil needs to be faced with good, and the causes of violence must be addressed."
The strategy of AMLO, as the leftist former Mexico City mayor is known, continues to depend in part on the military for domestic security. The national guard that he wants to create will be composed of members of the army, navy and federal police, and his plans call for keeping some current forces in place until the group is up and running within three years.
"AMLO's strategy is surprising because despite having called the armed forces repressers and even assassins, he's creating a super structure that will merge the army, navy and federal police, and it puts public security under military command," said Veronica Ortiz, a political analyst who co-hosts a show on Mexico's non-partisan Congress channel.
Some critics may see Lopez Obrador's focus on promoting good versus evil and his emphasis of family values as naïve, but Mexicans are tired of the same old approach that led to a more than 10-year fight against drug cartels and record levels of bloodshed. Lopez Obrador takes office during the most violent era in Mexico's modern history -- total murders in 2017 were the highest on record, reaching more than 31,000, and 2018 will likely be worse given an 18 percent rise so far.
Lopez Obrador faces high expectations from his electorate to make Mexico safer. In a survey from July 23, 65 percent of participants said they expected security to improve under Lopez Obrador, the first president to win an outright majority of votes in a national election since the nation opened its political system, according to Mexico City-based political analysis firm, Consulta Mitofsky.
Durazo was blunt in his assessment of the strategy of confrontation with drug cartels launched by then-President Felipe Calderon in 2006 and continued under President Enrique Pena Nieto.
"The Mexican government has not been able to defeat the cartels and there's no prospect of defeating them," he said. "We're a nation of victims."