Allora! What the Market's Saying About Italy's Latest Recession
(Bloomberg) -- Italy's back in recession, and no one's particularly surprised.
Statistics agency Istat confirmed Thursday what Prime Minister Giuseppe Conte said the day before, and what analysts have been forecasting for weeks: output contracted in the three months through December, following a 0.1 percent fall in the previous quarter, which leaves the country in a technical economic slump.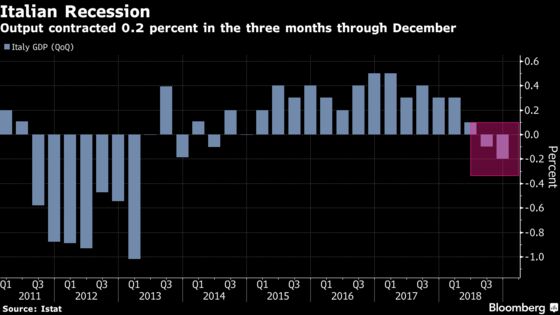 The euro was little changed against the dollar, at $1.1481 as of 11:06 a.m. in Rome. The benchmark FTSE MIB index fell 0.5 percent. Italian bonds held onto their moderate gains in the wake of the data, with 10-year yields dropping one basis point to 2.59 percent, their lowest level since July.
Here's how investors and analysts are reacting:
James Athey, portfolio manager at Aberdeen Standard Investments who's short on Italian bonds
"The street was certainly well prepared for a not very pretty number, especially after Conte hinted that it was going to be negative. The margin of the miss is not sufficiently large to really shift market expectations hugely. The growth forecasts on which the budget was based have already been blown out of the water and euro-zone growth continues to weaken. Italy is going to have to face up to some real problems in the coming months and debt sustainability will eventually be one of those."
Marc Ostwald, analyst at ADM Investor Service
"The number is clearly weaker than expected, and all the worse for the fact that it was nearly -0.3 percent and the third quarter was revised down modestly. The forecast looked optimistic given that trade has clearly been a drag and domestic demand remains sluggish, as monthly data have highlighted. Will markets react to this? Probably not, at least today, given that month-end flows are dominating and underweight BTP positions have been covered."
Vincenzo Longo, analyst at IG Markets
"All fears have been realized. The weak Italian economy was condemned to enter recession before other economies. In addition to exogenous factors including trade war and weaker China economy, the deterioration of consumer and business confidence is due to political uncertainty, which weighed on the last quarter of 2018. Political instability and the approval process for the budget law have contributed to a small extent to this result."
Loredana Federico, chief Italian economist at UniCredit
"The growth deterioration has been driven by a combination of lower external and domestic demand. Going forward, the main short-term risk is now a more front-loaded deterioration in global demand than initially expected."
Lorenzo Codogno, LC Macro Advisers Ltd. founder and former chief economist at the Italian finance ministry
"The data is exactly in line with my expectations, I had minus 0.2. This means it will be very difficult to achieve positive growth in 2019. My baseline scenario is for GDP falling by 0.2 percent for the whole of 2019. I expect the first quarter of 2019 to be negative as well. The government would be well-advised to introduce some spending cuts before the summer, in order to lighten the burden of adjustment in the 2020 budget."