Alleged Saudi Decoy Wore Khashoggi's Clothes, CNN Reports
(Bloomberg) -- A member of the team suspected in the death of journalist Jamal Khashoggi was captured on surveillance cameras wearing his clothing around Istanbul on the day he was killed, CNN reported citing a senior Turkish official.
The network said it had obtained law enforcement footage showing the man, identified as Mustafa al-Madani, leaving the Saudi consulate by a back door while wearing Khashoggi's clothes, a fake beard and glasses -- but different shoes. Video appears to show the same man in Khashoggi's attire later at the city's famed Blue Mosque.
The White House and National Security Council didn't immediately response to requests for comment.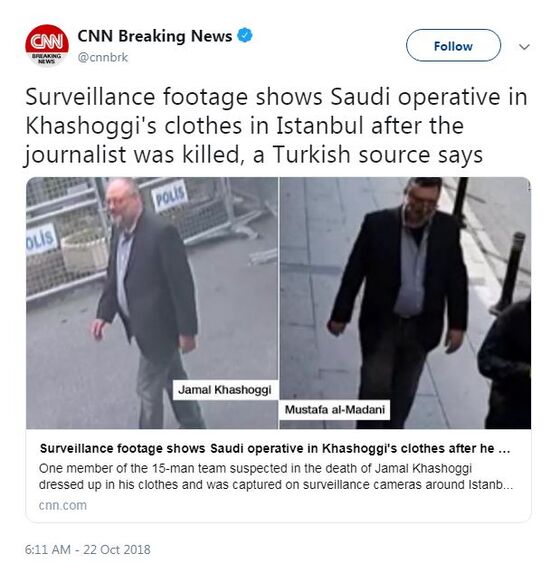 Madini, who is around the same age, height and build as Khashoggi, was brought to Istanbul as part of a 15-member Saudi team that allegedly killed him to serve as a decoy, CNN reported the official told the network.
On Sunday, Saudi Arabia's Foreign Minister Adel al-Jubeir said the killing was carried out by a "rogue operation" that then tried to cover it up. European leaders and even President Donald Trump have expressed skepticism over the official explanation.
The incident is hurting the kingdom's plans to attract and retain international stock-market investors. Foreigners were net sellers of a total of 4 billion riyals ($1.1 billion) of Saudi stocks last week, more than any other since data was first made available in 2015, with the exception of a one-time outflow from a single transaction in September 2017.
In addition, world business leaders including Deutsche Bank AG's Christian Sewing, JPMorgan Chase & Co.'s Jamie Dimon and BlackRock Inc. Chief Executive Officer Larry Fink have pulled out of a three-day investment conference that opens in Riyadh Tuesday hosted by the kingdom's sovereign wealth fund. It's seen as a blow to Saudi Arabia and its 33-year-old Crown Prince Mohammed bin Salman.