Allegations Mount Against Trump's Court Pick
Things just keep getting worse for Brett Kavanaugh and his Republican supporters.
The New Yorker magazine reported that Senate Democrats are investigating an incident that allegedly took place during Kavanaugh's college years at Yale University involving a fellow student. Kavanaugh denied the charge, and the White House issued a statement saying it stands firmly behind his nomination.
There may be more to come. Michael Avenatti, the lawyer best known for representing adult film star Stephanie Clifford, who says she had an affair with Trump, said on Twitter that he's acting for a third woman "with credible information regarding Judge Kavanaugh."
Kavanaugh's nomination already was on the rocks because of Christine Blasey Ford's accusation that he assaulted her three decades ago. The latest claims make backing Kavanaugh even riskier for Republicans barely a month ahead of congressional midterm elections and inject fresh drama into a hearing planned for Thursday that promises to be the center of attention in Washington.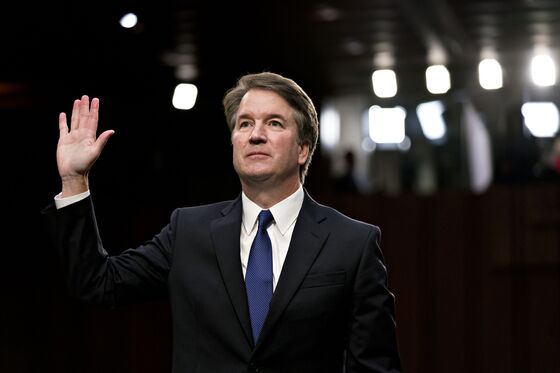 Tough talk | China says there will be no further negotiations on its trade standoff with the U.S. until Trump stops threatening to impose new tariffs. Beijing reiterated its position just after the Trump administration slapped further duties on another $200 billion in Chinese goods. A white paper carried by its official Xinhua News Agency said that while China is always ready for talks, they "must be held in an environment of mutual respect."
Brexit impasse | Theresa May can't seem to please anyone. The European Union dislikes her Brexit blueprint for not having enough concessions. Hardliners in her Conservative Party hate it for ceding too much. On the other side of the political spectrum – at the Labour Party conference this week – momentum is building to hold a second referendum. No wonder speculation is rife of an imminent election to break the impasse.
A secret plot | President Sergio Mattarella is working the back channels of the Italian state with his premier and finance minister to contain the more extreme impulses of the populists in the governing coalition, John Follain writes. His first objective: a budget that will start to bring down Europe's biggest pile of government debt and lower the risk of a financial crisis.
Words of warning | Senior Republicans are cautioning Trump against firing Deputy Attorney General Rod Rosenstein — at least not until an investigation is conducted into a New York Times report that he privately discussed whether to tape the president and try to remove him from office. Rosenstein, who oversees Special Counsel Robert Mueller's investigation into election meddling by Russia, has denied the report.
Lesson in liberalism | A school built to spread democracy after the fall of the Iron Curtain is under threat from the illiberal wave rumbling across the European Union. Founded by philanthropist George Soros, the Central European University in Budapest may soon be banned as Hungarian Prime Minister Viktor Orban challenges the checks and balances and multicultural inclusion that has ruled the EU for the past seven decades.
Trump enters the United Nations General Assembly this week with America's closest allies frustrated over fraying ties and the entire world wary as it awaits critical U.S. decisions on Iran and North Korea. He's scheduled to meet today with the leaders of South Korea, France and Egypt. 
The EU's trade chief heads to New York this week to continue negotiations with the U.S. and Japan, as the three parties seek a way to end what they see as China's unfair commercial policies and dial down global tensions.
And finally ... Singapore's authorities are seeking greater powers in their fight against "fake news," targeting practices such as Bitcoin fraudsters using the names of Prime Minister Lee Hsien Loong and his deputy Tharman Shanmugaratnam to tout investments. It follows an agreement by Southeast Asian nations last week to adopt cybersecurity rules after major data breaches in the region. On Saturday evening, Lee took to Twitter to denounce the spread of online falsehoods: "Don't believe everything you see on the Internet!"