Alcohol Deaths in England and Wales Hit a Record in Lockdown
(Bloomberg) -- The number of alcohol-related deaths in England and Wales jumped to a record in the first nine months of last year, raising fresh concerns about the toll being taken by the pandemic.
Health experts fear that many Britons are hitting the bottle to cope with the stress and isolation caused by lockdowns, leading to an increase in liver disease and mental health problems.
Office for National Statistics figures Tuesday showed there were 5,460 deaths caused by alcohol misuse between January and September, a 16% leap from the same period of 2019. They accounted for 12.8 fatalities per 100,000 people, the highest since the data series began in 2001.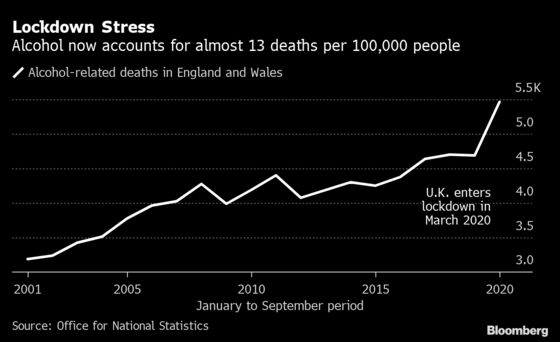 The U.K. entered its first lockdown on March 23 to contain the spread of coronavirus, with schools, hospitality venues and all-but essential stores forced to close for several months. During the April to September period, alcohol-related deaths were "statistically higher" than in any other year on record, the ONS said.
With the country now in its third lockdown and unemployment rising, there is little reason to expect any improvement in the coming months.
Surveys suggest those who increased their alcohol consumption were already regular drinkers, and with vital health services put on hold many people may not have been able to seek help, said Linda Bauld, a professor of public health at the University of Edinburgh.
"These are preventable excess deaths, and are a stark reminder that there are indirect harms from this pandemic beyond the immediate threat to health and life from Covid-19," she said.
The male death rate was twice that among women, and people of working age were particularly badly affected, the ONS figures show. Rates were higher in the North East and London in the second quarter and the South West in the following three months.
Alcoholic liver disease accounted for the bulk of fatalities, followed by mental disorders, accidental poisoning and pancreatitis.