Al-Qaeda's Disciples Still a Threat to African Business Hub
(Bloomberg) -- When the blasts shattered the calm at the 14 Riverside office park in Kenya's capital on Tuesday afternoon, Vikash and eight colleagues hit the floor and waited almost two hours until a security guard appeared to help them escape what evolved into an overnight siege.
In those confused moments, Vikash, a 36-year-old investment adviser who asked that his full name not be disclosed, didn't realize he was in the middle of an attack by the Islamist militant group, al-Shabaab, more than five years since its last major strike in Nairobi, a symbol of the East African nation's fast-growing economy. The assault ended on Wednesday with the deaths of at least 21 and five heavily-armed assailants.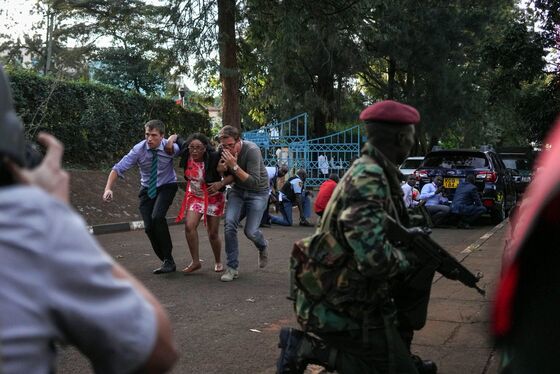 "Walking to the blood-stained window on our floor, I could see many bodies," he recalled, describing the scene at a nearby restaurant where he'd been thinking about going for coffee at about 2:30 p.m. "Then half an hour later, the explosion happened. So, close call."
One of a recent wave of Islamist militant attacks that have rocked sub-Saharan Africa from Nigeria and Mali in the west to Somalia in the east, Tuesday's assault shows al-Shabaab is still a major threat to Kenya and the region, said Omar S. Mahmood, a senior researcher at the Pretoria, South Africa-based Institute for Security Studies.
"Even if there have not been major incidents in Nairobi in recent years, al-Shabaab remains a sophisticated and determined actor which still has its sights on the city," he said.
Five people have been arrested in connection with the attack, with authorities "satisfied that there is probable cause to continue with investigations against all suspects," Kenya's director of public prosecutions, Noordin Haji, said Friday in a statement.
For residents of Kenya's capital, the events stirred painful echoes of the September 2013 attack by al-Shabaab on the upscale Westgate shopping mall, about a mile from Riverside, in which 67 people died. Nairobi is a regional hub for companies such as General Electric Co. and Toyota Motor Corp.
"Al-Shabaab has historically targeted sites that represent multiple constituencies to maximize the propaganda value of its actions," said Ed Hobey-Hamsher, senior Africa analyst at Bath, England-based Verisk Maplecroft. Besides a hotel, the Riverside complex "is also home to the offices of foreign companies and high-end shops, giving them three high-value targets."
The Somalia Stability Fund, which describes itself as "a multi-donor fund working towards a peaceful, secure and stable Somalia," was among the organizations with an office in the Riverside complex, according to its website.
Tuesday was the third anniversary of an al-Shabaab attack on an African Union base in El Adde, Somalia, in which dozens of Kenyan soldiers were reported killed. Kenya's government has never given a death toll.
It also refocused attention on the Somalia-based, al-Qaeda-linked group that's thought to have been behind more than 150 attacks in Kenya since 2011 -- and killed 147 at a northeastern university in 2015 -- but had recently seemed in retreat even as it plagued Somalis at home.
"Al-Shabaab has continued to demonstrate the ability to move in and out of Kenya, and to recruit and fund-raise in the country, and this may have been intended as a reminder that they can strike beyond the northeast," said Lauren Ploch Blanchard, an East Africa analyst with the Congressional Research Service.
Formed in civil war-torn Somalia in about 2006, al-Shabaab is battling to enforce its version of Islamic law across the Horn of Africa country, once controlling the capital. Kenya entered Somalia to quash the militants in 2011 after they kidnapped tourists across the border, and later joined an African Union mission that backs the fragile Mogadishu government.
At home, despite being embroiled in a brutal feud with Islamic State, al-Shabaab has kept up the violence, and was widely blamed for Somalia's deadliest-ever terrorist attack in October 2017. Over the past two years, the U.S. -- which killed al-Shabaab's then-leader in a 2014 raid -- has intensified its use of airstrikes and special forces against both groups.
Al-Shabaab has repeatedly used Kenya's military presence in Somalia to justify its atrocities. A survivor of Tuesday's attack told Citizen TV, a Kenyan broadcaster, that he heard the gunmen accuse Kenya of killing "our people in Somalia" and "ruining our way of life."
While "an attack in Nairobi will ensure that it gets more attention," said Jared Jeffery, an analyst at NKC African Economics in Paarl, South Africa, there's "little reason to expect this will force a significant change in policy."
Kenyan police and anti-terrorism forces' response showed they'd learned a lot from the Westgate attack, according to Kira Munk-Wells, a sub-Saharan Africa security analyst at Burlington, Massachusetts-based Everbridge.
"That was on display with their response here, focusing on evacuating civilians and limiting movement in the area," she said.