Argentina's G-20 Week Marked by Labor Strikes, Soccer Fiasco
(Bloomberg) -- Workers for Argentina's largest airline went on strike on Monday, grounding some 40,000 passengers and adding to a challenging start of the week for President Mauricio Macri as the country prepares to host leaders from the Group of 20 nations in Buenos Aires.
The strike forced Aerolineas Argentinas to cancel 371 flights on Monday alone. Other 600 flights have been suspended since the beginning of the month as workers demand better pay and benefits, and protest against the arrival of low-cost competitors. To make matters worse, unions representing public transit workers in Buenos Aires said they would go on a three-hour strike Tuesday morning, shutting down subway and bus service.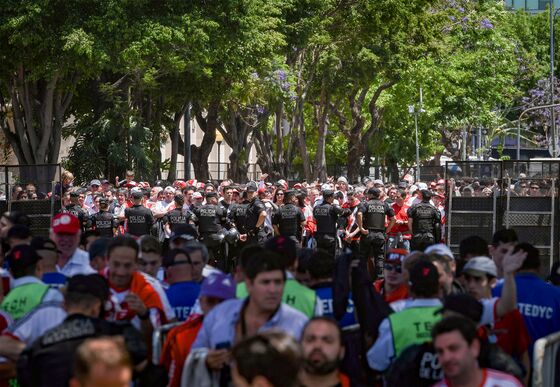 Those aren't the only headache for Macri, who is hosting counterparts including Donald Trump, Xi Jinping and Emmanuel Macron in Buenos Aires starting on Thursday.
Violence erupted over the weekend after the final game of Copa Libertadores, the South American championship, had to be twice postponed after fans attacked players, some of whom had to be hospitalized with non-life-threatening injuries. The game between arch rivals Boca Juniors and River Plate -- labeled the biggest in Argentina's history -- has yet to be rescheduled. Buenos Aires' security minister resigned on Monday after the city's mayor said there were lapses in security.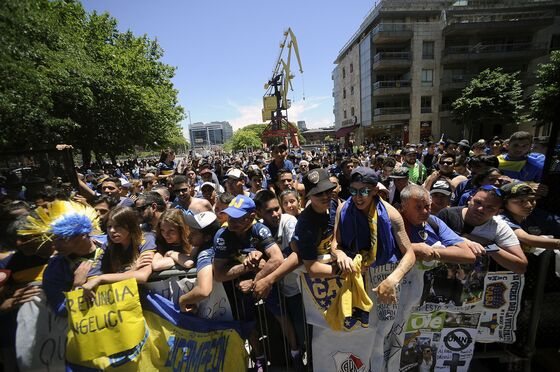 The strikes and soccer fiasco raise questions about the city's preparedness to handle an expected 8,000 visitors for the G-20 summit as delegations begin to arrive. The disruption also doesn't bode well for Macri, whose approval ratings are at the lowest point of his presidency after Argentina was rocked by a currency crisis that dragged the economy into recession this year.
The Buenos Aires city police handled security of the soccer game, while some 22,000 national guards will be responsible for securing the G-20 summit. Commuter rail, most subways and the domestic airport will be shut down, along with many street closings. The government has asked Buenos Aires residents to leave the city during the summit if they can.