After Truce, Israel Confronts Aftermath of Arab-Jewish Violence
(Bloomberg) -- Charred shells of cars hulked on the streets of a rundown neighborhood in the Israeli town of Lod, the aftermath of nights of deadly rampaging by Arab and Jewish citizens.
Attacks by Arab and Jewish mobs -- spillover from fighting in Jerusalem and the Gaza Strip -- claimed lives on each side and shook an uneasy coexistence in a country shaped by their conflict. Though the violence has eased, it's left Israel confronting uncomfortable truths about its treatment of Arab citizens who account for about a fifth of the population, and raised profound questions about the kind of society it must become if it is to find peace.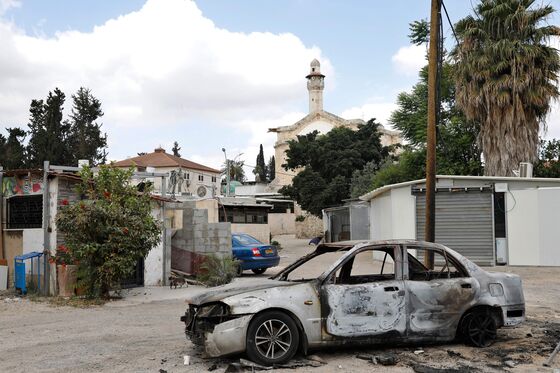 "We feel racism 24/7, in the street, when a policeman stops me, in city hall, in court and in the airport," said Khaled Zabarqa, an Arab Israeli lawyer from Lod.
"The next question is if Israel wants us to be Israelis and what does that mean?," Zabarqa said. "They don't want us to be Palestinians but second-class Israelis. How can we accept this?"
Small grassroots steps are being taken to try to build a different future. In Tel Aviv on Saturday, thousands gathered to call for coexistence. The Cellcom Israel Ltd. mobile phone company held an hour-long work stoppage to call for coexistence. And a television ad in Arabic and Hebrew paid for by Israeli corporations has urged the two communities to live together in peace.
But on a government level, the eruption is being treated as a law-and-order issue, with Prime Minister Benjamin Netanyahu vowing to crack down on Arab rioters while barely alluding to Jewish attacks on Arabs.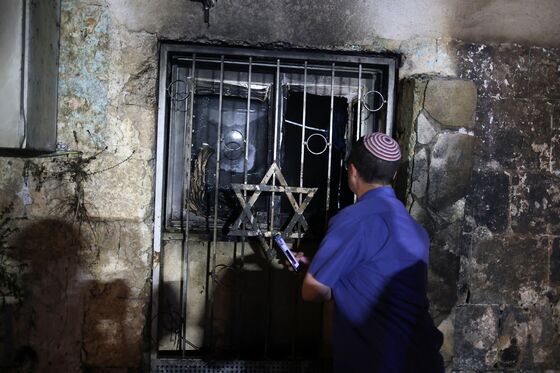 "This is going to intensify," said Avraham Sela, a political science professor at the Hebrew University of Jerusalem. "It will become much stronger in the future unless Israel really does the unexpected by changing its concept of how to deal with this significant minority."
Only several hundred people on each side participated in the violence. Jewish property, including a synagogue, was ransacked. Jews in Lod, bolstered by anti-Arab extremists, smashed up Arab homes. An Arab man died under contested circumstances and a Jewish man was killed by a brick that struck his head.
The trigger was weeks of clashes between Palestinian protesters and Israeli security forces in Jerusalem, the city at the heart of competing sovereignty claims. Israeli restrictions on gathering at a traditional meeting place during the Muslim fasting month of Ramadan touched off the confrontations, which cascaded amid Israeli efforts to expel dozens of Palestinians from homes in east Jerusalem. Anger also flared when Israeli police stormed the Al Aqsa mosque, Islam's third-holiest shrine, and blocked thousands of Muslims from praying in Jerusalem during Ramadan.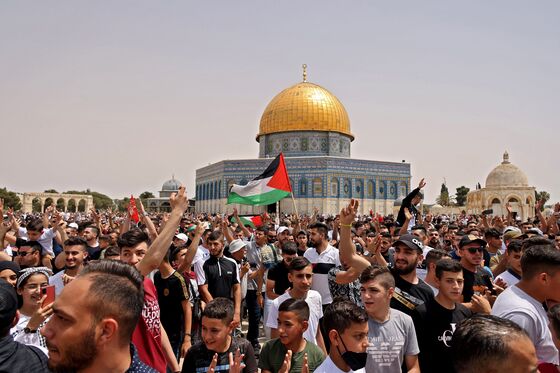 By the time the Gaza front exploded, the situation was at boiling point.
"We are citizens of a country that is occupying our people, so we are put in a very difficult position," said Ayman Odeh, leader of the Joint List of Arab parties. "Peace and the establishment of a Palestinian state is the most important step that has to take place, because that will resolve our most difficult problem. We cannot achieve full equality without the solution of Palestine."
On paper, Israeli Arabs are citizens of equal standing in a country focused on its Jewish identity, But they've historically suffered discrimination in employment and housing, and from poorer educational, health and infrastructure services. A surge in deadly crime within their communities hasn't been addressed. And a 2018 law enshrining Israel's Jewish identity doesn't safeguard the rights of minorities codified elsewhere.
The risks aren't lost on Israeli Jews.
"Neither of us is going anywhere," said Eden Segal, a Jewish mother of three in Lod. "We have to find a way to live together."
The outburst of rage followed what had looked like an unprecedented shift toward Arab participation in Israeli government.
Mansour Abbas, head of the United Arab List, had broken with age-old Israeli Arab politics to put his community's daily needs above the question of Palestinian independence. But a pro-settler party that was also to have sat in the same anti-Netanyahu coalition pulled out of negotiations, making it all but impossible for a rival government to rise.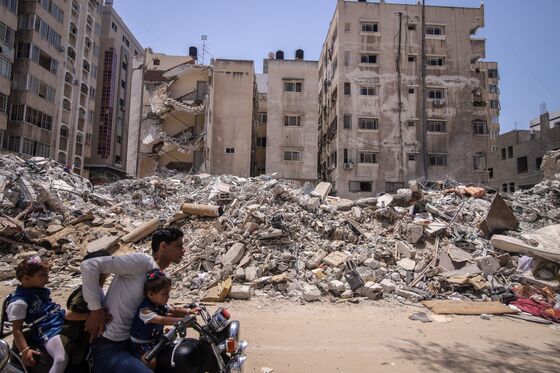 "This was a paradigm shift," said Micah Goodman, a researcher at the Shalom Hartman Institute. Now we're are at a moment when Israeli Arabs feel more disconnected to Israel than ever, "but it follows the one moment when, for the first time, they were going to be kingmaker of Israeli politics."
Abbas himself suspended participation in negotiations after the Gaza fighting erupted.
It remains to be seen whether the delicate fabric of communal life can be rewoven.
"Do you know how many Jewish friends I have? I say their prayers with them, I go abroad with them, my home is their home," said Maharan Wahidi, a 39-year-old car salesman in Lod.
In Acre, Evan Fallenberg, a professor of English literature at Bar-Ilan University near Tel Aviv, renovated a rundown building into the Arabesque Hotel and enjoyed warm relations with Arab neighbors. Today, the property lies in ruins.
On May 12, the hotel "fell to the hands of a violent mob, in spite of the best efforts of our neighbors, who deflected the attack time and again until the mob grew to fifty and there were threats to burn down the entire neighborhood," Fallenberg wrote on Facebook. "Only this I know for certain; the friendships I have made in Acre are real and unassailable, even by hatred, anger and muscle. From this, I will build a future."