After Brexit, Another Vote Looms Over Europe's Finance Industry
(Bloomberg) -- When European leaders gather to rubber stamp a Brexit deal on Sunday, Swiss voters risk creating another crisis over sovereignty.
A Nov. 25 plebiscite -- the "self-determination initiative" sponsored by the anti-immigrant Swiss People's Party -- proposes giving Switzerland's constitution supremacy over international law. While the nationalist party says its proposal will ensure independence from the European Union, critics warn of dire economic consequences and stock market turmoil.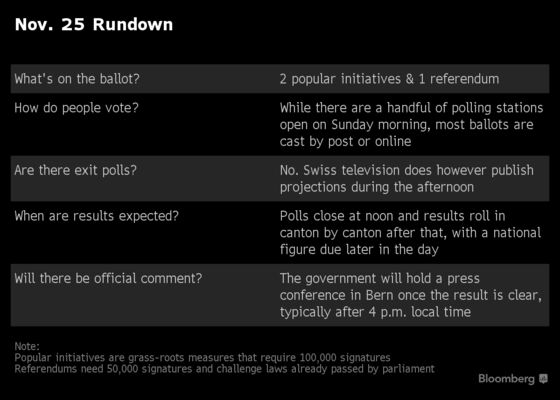 One of the first casualties could be the "framework agreement" that's set to replace the 120 treaties -- spanning agriculture to immigration and civil aviation -- that currently govern relations between Switzerland and the EU. Those negotiations are already gridlocked as Brussels opposes cantonal bank guarantees and policies protecting higher Swiss wage levels.
A yes vote would probably kill the chances of negotiating the framework deal in the short term, according to an EU diplomat, who asked not to be identified due to the sensitivity of the talks. The plebiscite comes as Brexit has left the EU in no mood to grant concessions to the Swiss.
"The Brexit issue has played a very negative role in the negotiations between Switzerland and the EU," said Rene Schwok, director of the Global Studies Institute at the University of Geneva, adding that a "yes" vote would weaken supporters of the framework deal. "They would be completely paralyzed and would not dare to continue negotiations with the EU."
The four-year-old framework talks are crucial to neutral and landlocked Switzerland, whose economy is almost as closely integrated with the EU as is the U.K.'s. The EU Commission's tough stance was highlighted last December, when it linked a successful outcome to the negotiations to granting Switzerland's stock market equivalence under the MiFID II regime.
Like post-Brexit Britain, Switzerland needs equivalence status under the EU's revised Markets in Financial Instruments Directive for investors within the bloc to be allowed to trade in Swiss shares. A temporary permit granted last December expires at the end of this year.
Because flows can be rerouted, there won't be "an explosion" if equivalence can't be maintained, said Axel Lehmann, president of UBS Group AG Switzerland. But in the medium term, the stock market won't be able to operate, he said.
If equivalence doesn't get extended, Bern has laid out a contingency plan that would prohibit Swiss shares from being traded in the EU, in theory redirecting dealing back to Switzerland.
Still, it may suit Swiss politicians to delay talks until the finalization of a Brexit deal, said Nicolas Veron, a senior fellow at Bruegel, an economic think tank in Brussels.
"The EU was willing to go soft with Switzerland, when it was an era where it couldn't set precedents, but now with Brexit the EU has had to toughen up its act," Veron said. "If I was a Swiss policy maker, I would try to buy time for exactly that reason, but it's a risky strategy because we don't know what will happen with Brexit."
The self-determination initiative is one of a string of nationalist initiatives from the Swiss People's Party, including the 2014 vote to reimpose quotas on immigrants from EU countries. The latest proposal is impractical, not least because Bern lacks the clout to force the EU to renegotiate treaties that conflict with the Swiss constitution, said Cenni Najy, a Geneva-based senior policy fellow at Foraus, a think tank focused on foreign policy.
"Switzerland is a small country and lacks the leverage, so it doesn't provide workable solution," said Najy, who highlights next year's elections as a prime motivation for the plebiscite. "Essentially it's a populist initiative, playing on myths around foreign judges, which resonates in Swiss DNA."
With opposition to the framework deal from parties on both sides of the political spectrum, it may be left to Swiss voters to ensure that relations with EU don't deteriorate further.
The latest Nov. 14 opinion poll for national broadcaster SRG has opponents of the Swiss People's Party initiative widening their lead to 61 percent of the vote.