Africa's Democratic Dreams Are Put to the Test
The scenes of soldiers firing on protesters in Zimbabwe's capital and the litany of election flaws detailed by international observers gave President Emmerson Mnangagwa a bittersweet victory in this week's vote – originally billed as heralding the southern African nation's renaissance.
Over the next 12 months, three crucial elections in Africa – in Nigeria (the most populous nation), Democratic Republic of Congo (physically the biggest), and South Africa (the most industrialized) – may determine whether democracy is a force for good or a catalyst for division.
Nigerian President Muhammadu Buhari, 75, is facing a wave of defections from his party before February's vote, while Congo's opposition fears Joseph Kabila will change the rules so he can stand for a third term in December.
Cyril Ramaphosa's ascendancy to the South African presidency initially energized the African National Congress, but now the ruling party is nervously tacking left – announcing a new drive to expropriate land without compensation – in part over fear that it could lose its parliamentary majority.
In Zimbabwe, Mnangagwa struck a conciliatory tone: "Though we have been divided at the polls, we are united in our dreams." There's little sign that the losers in Africa's latest democracy test agree.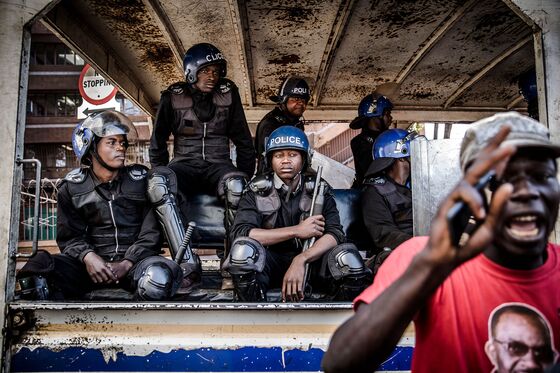 Pompeo's challenge | Secretary of State Michael Pompeo arrived in Singapore for a regional summit spotlighting the difficulties facing U.S. efforts to keep up pressure against North Korea and Iran, David Tweed reports. Pyongyang's envoy was enjoying new prominence at the event, while Tehran's signed a friendship pact. The U.S. is also said to have failed to persuade China to cut back oil purchases, according to Rachel Adams-Heard and Nicholas Wadhams.
Pivotal Mueller meeting | With the top U.S intelligence official warning Russia is "a keyboard click away" from another major election hack, Shannon Pettypiece and Chris Strohm take a look at a 2017 Oval Office meeting between Donald Trump and Robert Mueller that may have been the genesis of the president's claims the special counsel is biased against him.
Republican schism | Trump's fight with the powerful political network led by the billionaire Koch brothers risks fracturing his party just as it reaches the critical homestretch of its campaign to keep its congressional majorities in the November midterm elections. In a struggle over the future of the party, the Republican National Committee has joined Trump's attack on an organization that has helped shape U.S. conservative politics for decades.
Heating up | There's no Brexit respite for Theresa May, who's cutting short her holiday today to try to persuade French President Emmanuel Macron to back her plan for leaving the European Union. Even Bank of England Governor Mark Carney sounds worried, warning the risk of Britain crashing out with no deal is "uncomfortably high." With Trump-approved Boris Johnson the new favorite to lead May's Conservative Party, maybe she's glad to be back at work after all.
Argentine scandal | La Nacion newspaper published the findings of a probe into more than a decade of alleged graft under ex-President Cristina Fernandez de Kirchner and her late husband that's led to the arrest of 13 former government officials and business leaders. Based on a trove of secret documents, the reports have also led to a request for Kirchner to be stripped of immunity from prosecution, which may complicate her 2019 election bid.
At least six women will be vying for seats in Congress in Tennessee in November following last night's party-nominating contests.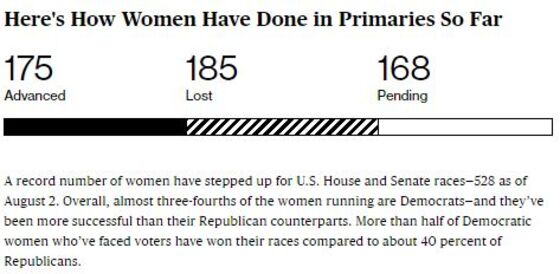 And finally … While slow to embrace the #MeToo movement, France is hiring about 10,000 extra police to help fight men catcalling and upskirting women after parliament passed a new law banning street harassment this week. The legislation, which introduces hefty fines and prison terms, was spurred by public outcry over a video of a 22-year-old woman being violently slapped by a man whose advances she had turned down. The event has brought into focus Macron's push to end sexist violence and promote gender equality.