Afghan Leader Sees No Change Toward Taliban From Pakistan
(Bloomberg) -- Afghanistan's chief executive said he's seen no change in Pakistan's policies toward the Taliban since Prime Minister Imran Khan came to power last month, though he emphasized the two countries are working together and he hopes to see a shift.
"Real change has not taken place as far as their policies towards the Taliban," Chief Executive Abdullah Abdullah said at the Council on Foreign Relations in New York on Wednesday, adding that Pakistan continues to have "significant" influence over the Taliban.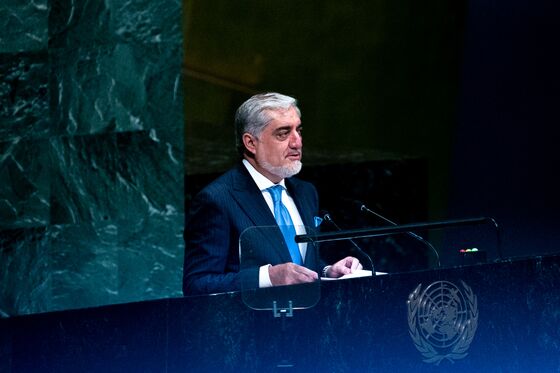 Capitalizing on Khan's election to get Pakistan to step up its fight against militant groups and end support to the Taliban has been a key objective for both Afghanistan and the U.S. While Pakistan serves as a key supply route for U.S. forces operating in Afghanistan, American officials have repeatedly accused officials in Islamabad -- particularly in the intelligence services -- of supporting militant groups that undermine the war effort.
Pakistan has allegedly long maintained ties with the Taliban as a way to target Indian interests and prevent the Afghan government from getting too close to arch-rival India.
Afghanistan's government has struggled to convince the Taliban to join in peace talks and, with long-delayed parliamentary and district elections barely three weeks away, there are fears the vote could be delayed or derailed further by continuing violence. Pulling off the elections will be "challenging," Abdullah conceded at the CFR event and, earlier, during his speech to the UN General Assembly.
"While we pursue peace efforts and deal with security and governance challenges," Abdullah said in his UN speech, "we need to make sure that, given our circumstances, the electoral process is trust-worthy and that the electorate can agree to a fairly credible and legitimate outcome."
Taliban militants who control or contests about half of the war-ravaged country have vowed to discredit the elections. The group and Islamic State militants have targeted several voter registration centers in the past few months, killing and injuring more than a hundred people. In April, an attack on a voting center in the Afghan capital Kabul killed nearly 60 people.
More than 9 million Afghans have registered to vote for both elections, according to the country's Independent Election Commission. But almost one-third of the country's 7,000 polling centers will remain shut due to insecurity, Tadamichi Yamamoto, the UN's top envoy in Afghanistan, said in a Sept. 17 briefing to the Security Council.
The country is also expected to hold a separate presidential election by April next year, which is likely to be even more difficult. A fraudulent result in the 2014 presidential election nearly sparked a civil war before a U.S.-brokered a power-sharing deal between the two top candidates allowed the formation of a coalition government.
If presidential elections are postponed, "there would be an immediate legitimacy crisis that could bring people into streets and cause all kinds of political problems," said Michael Kugelman, senior associate for South Asia at the Woodrow Wilson Center in Washington.