Pete Buttigieg Senior Adviser Says Candidate Has Obama's 'It' Thing
(Bloomberg) -- A senior adviser to Pete Buttigieg put the former mayor in the same league as Barack Obama as a pure politician and even better at some parts of being a candidate.
"There are few people in politics it's pretty dangerous to compare yourself to. Barack Obama is one of them. You don't compare yourself to John F. Kennedy either but I don't think it's wrong to say that Pete brings a talent and that ineffable 'it' thing that Obama had," senior adviser Lis Smith said Saturday.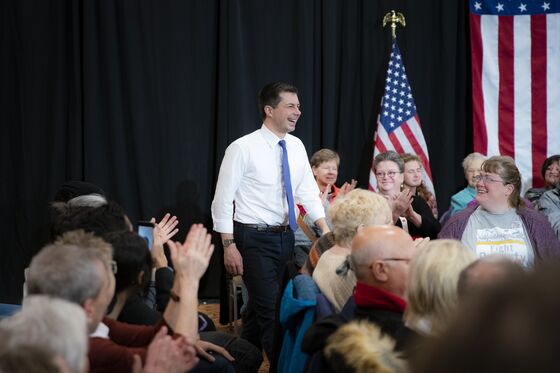 Speaking at a Bloomberg News reporters roundtable in Des Moines Saturday, Smith, a veteran of Obama's re-election campaign in 2012, said that Buttigieg has "completely different talents," especially that he doesn't mind doing media interviews.
"I think everyone knows that was not one of Barack Obama's favorite parts of his job," Smith told a group of reporters and editors.
The comparison to Obama, and obliquely JFK, was a bold comparison as many Democrats would say Obama was one of the best politicians the modern-day party has produced, along with Bill Clinton.
The comparison comes as Buttigieg is making an explicit appeal to Iowans to do what they did for Obama in 2008 -- make history by choosing the openly gay candidate as a nominee.
(Disclaimer: Michael Bloomberg is seeking the Democratic presidential nomination. He is the founder and majority owner of Bloomberg LP, the parent company of Bloomberg News).