Murphy Leads in N.J.; Trump's Endorsements Win: Election Update
(Bloomberg) -- New Jersey Governor Phil Murphy has a slight lead over Republican challenger Jack Ciattarelli as votes are still being counted, particularly among mail-in ballots.
The close fight -- an early afternoon tally showed Murphy ahead by about 15,000 votes according to the Associated Press -- comes as Virginia elected Republican Glenn Youngkin to be its governor -- a stunning blow to Democrats in a state President Joe Biden won by 10 percentage points just a year ago. 
New York City elected Democrat Eric Adams as its next mayor, dealing a defeat to his Republican challenger, Curtis Sliwa. Adams promised Wednesday to revisit some of his predecessor's positions, including a controversial vaccine mandate for all city workers.
History was made on a number of fronts, with Boston electing as mayor Michelle Wu, the first woman and person of color to run the city. The same first was set for the Virginia lieutenant-governor position. Meantime, Minneapolis rejected a ballot initiative to overhaul the city's approach to policing, and New York state adopted a clean water and air measure while rejecting a measure to ease voting requirements. Detroit voters approved a ballot initiative compelling the city council to investigate ways to compensate Black residents for decades of discrimination.
Key stories and developments:
All times are Eastern Daylight:
N.J.'s Highest-Ranking Dem Close to Losing Seat (4:15 p.m.)
In another potential upset in New Jersey politics, the state's highest-ranking Democratic lawmaker is on the verge of losing his seat.
Senate President Steve Sweeney of West Deptford was trailing Republican challenger Edward Durr, a commercial truck driver who spent $153 on his campaign.
Durr led Sweeney, 51.8% to 48.2%, with 100% of precincts reporting, according to the Associated Press, which has not yet declared a winner. That's a margin of more than 2,000 votes out of nearly 63,000 counted. Neither immediately responded to requests for comment. 
Born in Camden, Sweeney never attended college and followed his father into ironworking. He served on his county's governing board and was elected to the Senate in 2001. He has been president since 2010, leading negotiations on pension and benefit changes, tax increases and the budget.
Durr describes himself as a blue-collar father of three and grandfather of four who was born and raised in New Jersey.
"I believe in God. I am hard working, trusting and very loyal. I believe in fiscal responsibility, transparency, and lower taxes. I also support the 2nd Amendment," he wrote on his campaign website. "I would like to see government return to the hands of the people." -- Francesca Maglione
Minneapolis Reelects Mayor, Rejects Policing Overhaul (2:39 p.m.)
Democrat Jacob Frey has been elected mayor of Minneapolis with 49.1% of the vote, according to Minneapolis Elections and Voter Services. 
Despite criticism of his handling of the protests that followed the murder of George Floyd by a city police officer, the incumbent beat back a field of 17 challengers after two rounds of ranked choice voting tabulation. 
A ballot measure giving him more executive control of the city was also approved by voters, and a measure he opposed that would have overhauled the city's policing structure was rejected. -- Sarah Holder
All Trump-Endorsed Candidates Win (2:21 p.m.)
All four of the candidates running in Tuesday's elections who were endorsed by former President Donald Trump won their races.

Republican Glenn Youngkin, who defeated Democrat Terry McAuliffe in the Virginia governor's race, kept his distance from Trump even as he inserted himself in the race's final days. Trump issued multiple statements saying it was his supporters who determined the election's outcome, though Youngkin didn't thank Trump in his victory speech.
Trump also issued statements congratulating Republican Mike Carey, who easily won a special congressional election in Ohio, and Esteban "Steve" Bovo, who won the five-person race for mayor of Hialeah, Florida.

Former U.S. Representative Vito Fossella, who Trump endorsed for Staten Island borough president in New York, also won his race. -- Mark Niquette
Murphy Back in the Lead for New Jersey Governor Race (1:32 p.m.)
Democratic incumbent Governor Phil Murphy is back in the lead as New Jersey's slow-going vote count continues.
As of 1:30 p.m. local time, Murphy was leading by about 15,000 votes -- out of more than 2.4 million counted -- over Republican Jack Ciattarelli, according to the Associated Press. That's a margin of less than 1 percentage point.
The race is so close that the two have been swapping places as votes are added.
More than 700,000 New Jerseyans cast their ballots by mail or during early in-person voting. Some of New Jersey's 21 counties did not include some or all of those votes in their initial results. -- Stacie Sherman
N.J.'s Vote Count Continues With Mail-In Ballots (11:35 a.m.)
With the New Jersey governor's race coming down to the wire, campaigns are watching as mail-in ballots are counted across the Garden State's 21 counties. 
In Mercer County, where incumbent Democratic Governor Phil Murphy is leading with 96% of the total expected vote, the board of elections said it was still going through vote-by-mail ballots, according to clerk Paula Sollami Covello. Mercer includes Trenton, the state's capital.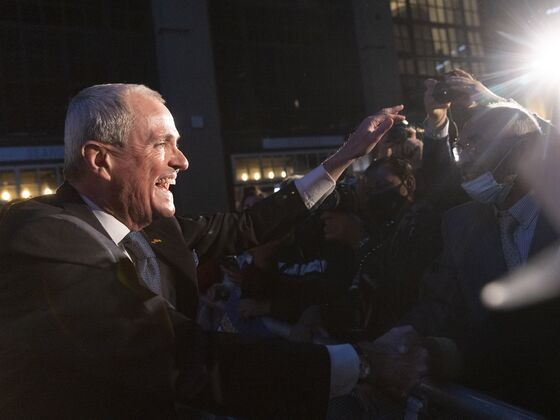 "We issued 47,019 vote-by-mail ballots and we have approximately 28,000 vote-by-mails to post this morning," Covello said in an email. "Then the Board has another 12,000 in now -- approximately -- that need to be counted." -- Skylar Woodhouse
Connecticut's No. 2 City Elects Its First Woman as Mayor (11:18 a.m.)
Caroline Simmons, a Democratic state representative, will become the first woman mayor of Connecticut's second-largest city, Stamford. Bobby Valentine, a former Major League Baseball manager, formally ended his campaign to lead his hometown.
"It's time for me to congratulate the new mayor of Stamford, Caroline Simmons," Valentine said on Twitter. "Thank you all for your support, it's been my honor." -- Akayla Gardner 
N.J. Governor's Race Seesaws, Cook Political Projects Murphy Win (10:07 a.m.)
New Jersey Governor Phil Murphy is locked in a tight race with Republican challenger Jack Ciattarelli in his bid for a second term, with a slow-in-coming ballot count leaving the rivals seesawing long after the polls closed.
Shortly after 10 a.m., Cook Political Report's Dave Wasserman made a projection that Murphy will be re-elected. Murphy's campaign manager Mollie Binotto said internal polling showed the same result: "Our internal numbers are crystal clear: When all the votes are counted, we will win," she said in a tweet.
The closeness of the race -- thousands of votes out of more than 2.3 million counted so far -- surprised some Democrats already reeling from a loss in Virginia. In pre-election polls, Murphy had led Ciattarelli by as many as 11 percentage points. As of mid Wednesday morning, Murphy was ahead in the vote count by less than a percentage point, according to the Associated Press.
New Jersey leans Democratic, but voters frustrated by the state's high taxes have kept governors from that party to single terms for more than four decades. Murphy also had to contend with President Joe Biden's declining approval ratings in New Jersey. -- Skylar Woodhouse and Sri Taylor
Summary of State, Local Ballot Initiative Votes (9:51 a.m.)
Many referenda on local ballots this year reflected policy ideas coming out of a year of loss and setbacks, protests and racial justice reckoning. They floated new ideas, and build on movements that gained traction during the pandemic.
Click here for the latest summary.
U.S. Voters Approve at Least $7.8 Billion of Muni Bond Sales (9:30 a.m.)
Voters across the U.S. are slated to approve at least $7.8 billion of local-government debt sales on ballots this election, according to preliminary results after Tuesday's polling. 
All in all, voters were asked to decide on about $27 billion of municipal bonds, the lowest tally since 2017, according to data compiled by IHS Markit. The largest measures up for a vote were set to fund work ranging from school construction to flood-prevention measures in Virginia Beach.  -- Nic Querolo
Adams Pledges to Talk With Unions on Vaccine Mandate (7:30 a.m.)
Adams said he would sit down with police and firefighter unions who are resisting the city's vaccine mandate if the issue remains unresolved when he takes office in January.
"When I inherit this situation, I am going to bring about a solution," he told CNN on Wednesday.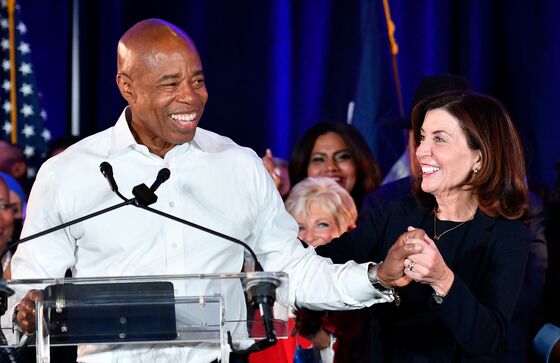 But he said he hoped his predecessor -- Mayor Bill de Blasio -- could negotiate a solution before he leaves office.
About 92% of city employees had gotten at least one vaccine dose by Monday, but only 81% of firefighters, 85% of the NYPD and 83% of sanitation workers had complied, leading to trash piling up on city streets and worker "sick-outs." -- Kathleen Hunter
New York Voters Reject Voting Access, Redistricting Proposals (6:42 a.m.)
New York state voters Tuesday rejected ballot propositions that would have allowed same-day voter registration and no-excuse absentee ballots, as well as changes to the state's redistricting process, according to unofficial results from the state Board of Elections. Voters approved an amendment adding the right to clean air and water to the state's constitution.
Voters rejected a measure to ease voting restrictions by amending the state's constitution to eliminate a 10-day advance voter registration requirement. -- Keshia Clukey
Detroit to Study Black Reparations Under Voter-Passed Initiative (6:37 a.m.)
Political leaders of the nation's largest majority-Black city will form a reparations task force after voters in Detroit approved a ballot initiative compelling the city council to investigate ways to compensate Black residents for decades of discrimination.
Proposal R, overwhelmingly passed Tuesday, doesn't set any substantive terms for what reparations will look like. Instead, it merely establishes a committee to "make recommendations for housing and economic development programs that address historical discrimination against the Black community in Detroit." -- Alex Ebert