Accused Russian Agent Maria Butina's Lawyer Criticizes Solitary Confinement
(Bloomberg) -- A Russian gun-rights activist accused by the U.S. of acting as a Kremlin agent during the 2016 presidential election is being held in solitary confinement for no reason and is suffering psychologically as a result, her lawyer told a judge.
Maria Butina, arrested in July, was held in isolation for 67 straight days at facilities in Washington and Alexandria, Virginia, before being released into the general population at her lawyer's previous request. Then, on Nov. 21, she was again placed in solitary confinement even though she hadn't broken any rules, her lawyer Alfred Carry said Tuesday in a request for a judge's order directing prison officials to transfer Butina back into general population.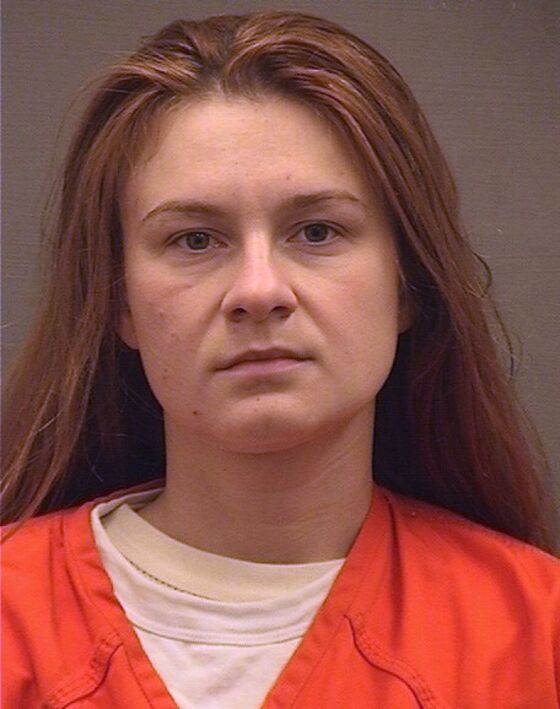 "These inmates are locked up and enclosed in a steel door cage the size of a parking space, deprived of any meaningful human contact or sensory stimulation for 22 hours a day, every day, with no release date in sight," Carry wrote in a filing Tuesday in Washington federal court. "Prolonged deprivation of human contact and interaction is starting to have a profound psychological impact on Ms. Butina."
The Justice Department didn't immediately respond to a request for comment.
Carry said he was advised by prison staff that the decision had been made "for her safety," meaning it fell under rules for so-called administrative segregation that doesn't have a process for internal appeals. He called it a "false pretext" based on a "ruse."
Butina, who came to the U.S. on a student visa and enrolled at the American University in Washington, is charged with conspiring to act as a foreign government agent. Prosecutors allege she had ties to Russia's intelligence services and oligarchs. She's accused of trying to establish back-channel connections between Russia and conservative groups, including the National Rifle Association, before President Donald Trump's 2016 victory.
Butina has also been seeking donations to help pay for her legal defense, an effort boosted by the Russian embassy with an October tweet that said she is "another victim of so-called 'American justice' and is in fact a political prisoner."
The case is U.S. v. Butina, 18-cr-218, U.S. District Court, District of Columbia (Washington).